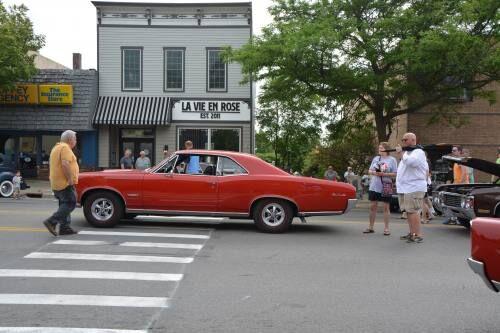 Vintage Car Enthusiasts Show off their Steering Wheel on 'Back to the Bricks' Promotional Tour | New
CADILLAC – From Bremer to Cass Street, Mitchell Street was inundated with endless vintage cars on the 2021 Back to the Bricks promotional tour.
Cadillac is the fourth stop on the tour, which started in Flint and then went through Mt. Nice and Boyne City. The city of Cadillac hasn't hosted the tour since 2012, but it was brought back after the Cadillac Lakes Cruise & Car Show was canceled.
Collectors, enthusiasts and visitors came from all over the state to view the 300 cars on display. Some vintage car owners have shared the story of their vehicle and how they got behind the wheel.
Ed Robarge de Lapeer is the owner of a 1974 Plymouth Duster.
Robarge and his son owned a pizza place in Holly, and one evening while delivering pizza he noticed the car lying in a ditch in a trailer park. Some time later he was at the Holly Inn and bumped into the mother of the car owner.
"I said, do you think he would sell it? And she said 'I don't know about him, but I want him to go,'" Roarge said.
About $ 800 later, it was his. The car was originally black and striped, but Roarge repainted it a shiny lime green.
Robarge said he had attended several shows with the car and was happy to be back after last year's COVID-19 cancellations.
Rick Callender came from Clio for the event. He owns a light yellow 1957 Oldsmobile. After buying the car in Detroit in 1990, Callender stripped and painted the car, adding air conditioning and a pearl coating which he said made the car glow in the sun. He also added a classic pair of fuzzy dice to the mirror.
Callender said his father repaired old cars and it's been his hobby ever since. Now that the state is opening up, he said he was happy to be back to events.
"It's good. I miss everyone, everyone guys and talk to everyone," Callender said. "It's a lot of fun, and it's like my whole group of people on this road."
Jeff Coleman of Genese County owns a 1964 Chavelle Malibu. He had the same car in high school and decided to look for a different one. When he bought the car it was being restored, but with the help of a friend and his son-in-law Coleman was able to finish the job.
Coleman said he's always been a fan of vintage cars, but never had the money to own one until now. So far, he's taken his vehicle on every Back to the Bricks tour except the first.
A longtime classic car enthusiast, Coleman is currently on an auto show committee in Genese County, where they hold an annual auto show in July.
Don Moeller owns a black 1955 Mercury Montclair which he bought on Facebook. He says they only made around 55,000 copies of the model that year and he always wanted to own one.
"I saw one when I was a teenager, and I loved it then, and it took me a long time to find one," Moeller said.
Moeller said he added a new interior, paint, drivetrain, air conditioning and window tint. It took him the three and a half years of owning the car to get it back to its current condition.
Last year Moeller couldn't attend many shows because of the pandemic, and the year before he was still working on the car, but he finally got to show it in 2021.
Robert Knowlton came from Lapeer with his 1987 442 Oldsmobile. He bought the car from a dealership near his home. She has never been touched and is in full original condition, with only 60,000 miles.
"It has the original spare tire in the trunk, never out," Knowlton said.
A unique feature of Knowlton's car is a plush version of Animal from the Muppets. He sits in the passenger seat of the car he drives to every show he attends. Knowlton said coming to auto shows is an experience in and of itself that's hard to describe. He met many friends through his passion for vintage cars and auto shows.
"It's like a big family, everyone knows everyone, and if something goes down and you need help, someone will stop and help you," Knowlton said.
Back to the Bricks is now heading to Muskegon on Tuesday, followed by St. Johns on Wednesday. They will then return to Flint before their week-long main event in August.