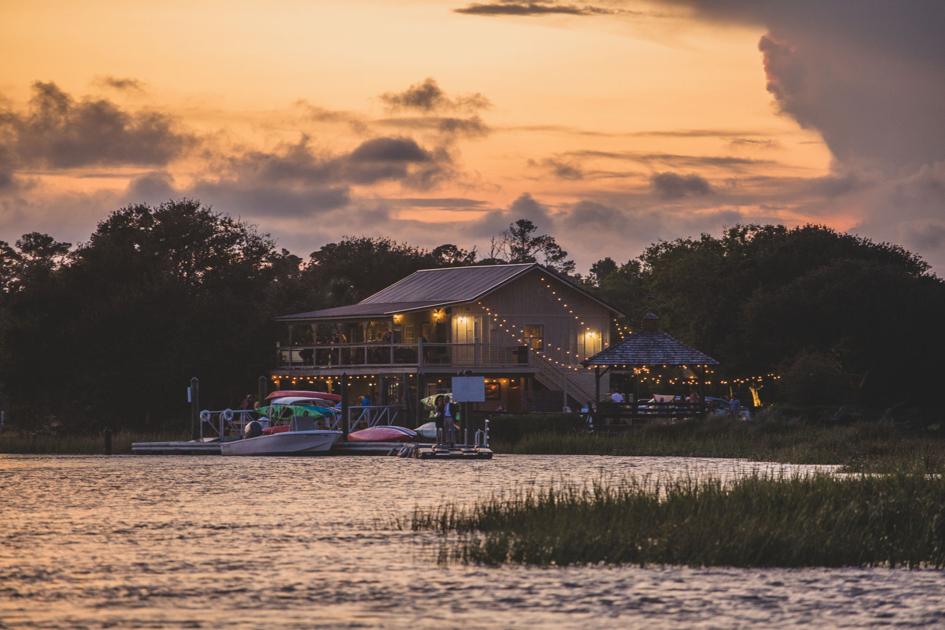 Village Creek Landing – the place with the view |
Imagine a private peninsula, surrounded by tidal coves and marshes with views of Sea Island, Little St. Simons and beyond. Now imagine your event – wedding, family reunion, party, corporate event, fundraising – taking place in such a place. At the end of South Harrington Road, next to Frederica Road, you will find Village Creek Landing.
The ancients will remember when this was the site of Cusie's Fish Camp, and later when Charlie and Norma Yawn had a restaurant there, with some of the best fried shrimp and coldest beer you could find. While those days are long gone, a semblance of them can be recreated at Village Creek Landing.
In addition to the event venue, which consists of a two-story structure, covered porch, gazebo and plenty of seating (and dancing) spaces, it also serves as a front-end. post for Southeast Adventure Outfitters which offers a full range of outdoor activities – kayaking, kayak fishing, fishing charters, bird and nature watching tours, sunset cruises, as well as kayaking lessons and boating.
Truly a labor of love, Village Creek Landing is owned by the Gowen / McGuigg family, who in 2018 bought it from the Berolzheimer family. Since 2009, Southeast Adventure Outfitters has co-leased the property, with Halyards Catering, followed by Straton Hall Events. At one point, Halyards and Straton Hall were the only caterers in the place, but after purchasing the property, the family decided to open the supplier list to include locally licensed suppliers.
Even the most recent renovations were done by family members. After a tornado hit their Satilla River property, the wood was salvaged, crushed, and used for flooring, beams, bars, benches and toilets. All the wood is pine and oak from the Satilla River. The benches were all handcrafted by Dr Jim Gowen, a local obstetrician-gynecologist and family member.
This level of involvement of family members is one of the core values ​​of Village Creek Landing. According to its website, "every member of the family has an important role in running the business."
Stacy Gowen, site manager at VCL, says whatever event you can imagine, they can do it.
"We mainly organize private events, such as weddings, rehearsal dinners, family reunions and corporate events," she said. "We have had many local fundraisers at Village Creek Landing."
The variety of events is endless and the occasions have included private birthday celebrations just for two, baby showers and wedding showers.
"Very recently, families have used the place for memorial services or celebrations of life," Gowen said.
As the website states, "the peninsula can be dressed or dressed for almost any occasion. From black tie and barbecue, to dirty oyster fluff and flakes and everything in between.
Prior to the Covid-19 lockdown, Village Creek Landing hosted public events, including live music events and outdoor farmers / artist markets about once a month.
"They were always so much fun," she said. "Local food trucks were coming out to sell food. It was a great opportunity to get locals to join us.
These public events, she said, have generated excellent feedback, adding that the folks at Village Creek Landing are looking forward to having markets and live music once again.
In fact, last spring, Drivin 'N Cryin' gave a concert at Village Creek Landing. Gowen said she looks forward to hosting more outdoor concerts in the future.
"I hope Covid will be in the rearview mirror as soon as possible," she said. "It was a great night to see the people and have fun."
Village Creek Landing is a perfect location for events. The interior space with a breathtaking view of the marsh and the waterways will accommodate up to 70 people and the maximum capacity of the property is 250 people.
"We have two covered porches with 20 upstairs bar stools and benches around the perimeter of the bottom deck," Gowen said. "Guests can sit inside or outside on the deck, or both. "
Tent rentals are available through Beachview Tent Rentals, which have several options at different prices.
"I always recommend a tent for large groups, just in case of bad weather," she said.
Finding the perfect location is the first step in planning an event, but food and drink follow closely behind.
When considering a caterer, remember that in Glynn County alcohol must be obtained by a licensed caterer who can revoke an offsite license and be served by a bartender. The Glynn County ordinance does not allow anyone to bring their own alcohol to an event.
The good news is that Village Creek Landing has a lot of options as they don't limit their customers to just one or two food and drink vendors.
"We have a list of preferred vendors with caterers who have been approved to serve food and a bar on our site," she said. "We've had Low Country Boils, Oyster Roasts, a BBQ, and even sit-and-tackle dinners at Village Creek Landing. Whatever you're looking for, I bet I can help you find the right caterer.
To burst:
Village Creek Landing is located at the end of South Harrington Road on St. Simons Island. The best way to book the venue is to contact Stacy Gowen at [email protected] The phone number is 912-506-2301. Gowen says she's in meetings a lot, taking tours of the venue, or getting ready for an event. She will respond to texts as soon as possible and tries to answer emails at least twice a day, morning and evening.