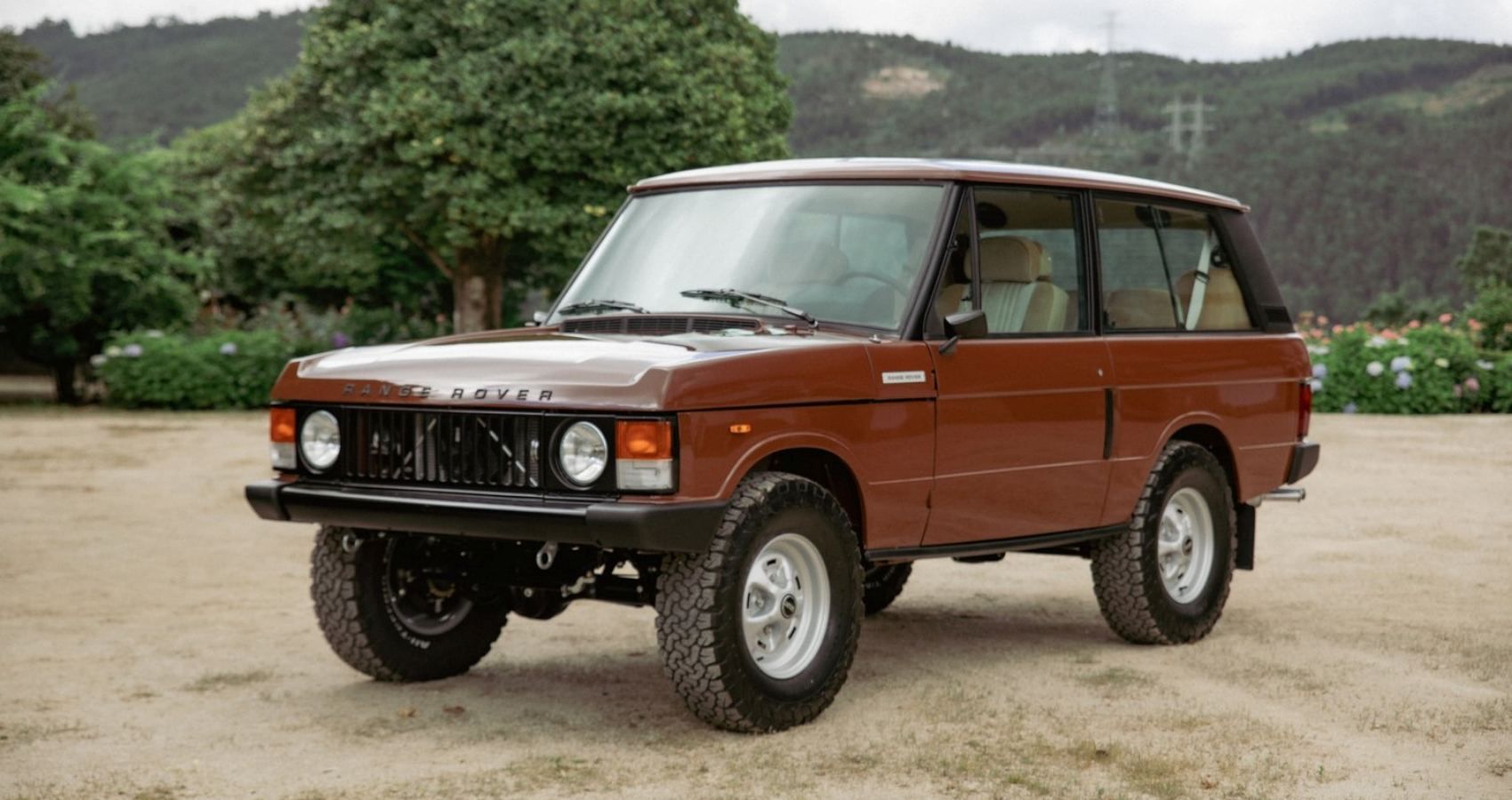 This 1985 Range Rover Classic Restomod by Legacy Overland is truly spectacular
Over the years, Legacy Overland has restored some of the most iconic names in the classic 4×4 space. From Land Rover Defenders to Mercedes-Benz G-Wagens, the list includes everything. Their work always brings these vintage off-roaders to life in the most exquisite way possible, turning them into new vintage classics. Legacy Overland's recent restoration of a 1985 Range Rover Classic two-door is another testament to their meticulous process of rebuilding these vehicles from the ground up. As requested by the car owner, this particular resto-mod was done to bring the Range Rover back to its original specification, with minimal modifications.
Let's dive into the details of this 1985 Range Rover Classic restoration by Legacy Overland and explain why it's among the most spectacular we've seen to date.
Related: This Restored 1955 Chevrolet Corvette Is Worth Its Weight In Gold
This 1985 Range Rover Classic restoration holds a special place in its owner's heart
While most owners of classic cars of all kinds choose to restore them just for fun or undertake the process themselves as a project car, the owner of this Range Rover Classic brings this 4×4 back to life for a extraordinary reason: it was the same thing. car on which he learned to drive. Not only that, but it also holds a special place in his heart as this Ranger Rover was the vehicle in which, as a young man, the owner took many trips with his father.
This restoration process is quite interesting because the owner found this Range Rover after selling it in the 1990s. However, when he saw it, it was in terrible condition. No stone was left unturned by Legacy Overland in restoring this iconic 4×4 SUV to its former glory. More than 5,000 hours of work went into this build in which this SUV was stripped down to the wire. Then it was reassembled, with every component completely overhauled.
Every mechanical component of the classic SUV has been reworked to restore its off-road capability
The restoration of a vintage car would be incomplete without a complete overhaul of its mechanical components. And the same has been taken care of well in this particular resto-mod. Legacy Overland has completely rebuilt the 3.5-liter Rover V8 engine of this vintage SUV. Not only that, but this power unit has been upgraded with a high-flow Weber carburetor. The 5-speed manual gearbox and the 4×4 transfer case have also been redone, giving them a new lease of life.
As the owner of this car wanted to retain the originality of this 1985 Range Rover Classic, it was fitted with 16″ Rostyle wheels in this restoration. These have been painted silver and adorn the center caps of the Range Rover with stainless steel lug nuts adding to their overall vintage appeal.Also, 265/75 R16 BF Goodrich off-road tires add a touch of modern convenience and capability.This Range Rover does not fail to have a tire of The same was kept in the trunk, with a traditional cover, as was the case when this car was new.
The chassis, body cage and interior panels of this SUV have been galvanized with felt washers. This Range Rover also has steel bumpers adorned in a satin black color scheme and comes with plastic end caps. Likewise, the original tow hook of this Range Rover has also been completely refurbished and also galvanized. This SUV's headlights have also been upgraded to xenon and traditionally get yellow and white indicator lights.
Related: Father and Son Project: 12V Cummins-Swapped 1970 Ford F-250 High Boy Restoration
Legacy Overland has brought this classic Range Rover back to its former glory
In addition to extensively rebuilding and upgrading all the mechanical components of this 1985 Range Rover, Legacy Overland also renovated the exterior and interior of this SUV. For starters, it was repainted in its original Land Rover Russet Brown color and given satin black and silver accents to complement the same. It also features Range Rover lettering in black on the boot and bonnet, which was traditional for any brand vehicle then, and even now.
Inside this Range Rover, there is an original leather-wrapped steering wheel. Additionally, the seats of this SUV are upholstered in a custom fabric that has been made to match the original pattern. In addition, the instrument cluster housing, dashboard, center console and the entire center tunnel are trimmed in black leather, giving the interior of the 4×4 an exclusive look. It features a new roof with a sunroof, adding a modern touch.
As well as being restored to its original specifications, this 1985 Range Rover Classic also benefits from some modern upgrades inside its cabin. This includes a custom climate control system, a Blaupunkt Bremen radio with Bluetooth connectivity and Alpine speakers with a Pioneer subwoofer. ISOFIX child anchor points, custom front and rear seat belts, and front and rear disc brakes add a modern touch of safety.
Source: Legacy Overland