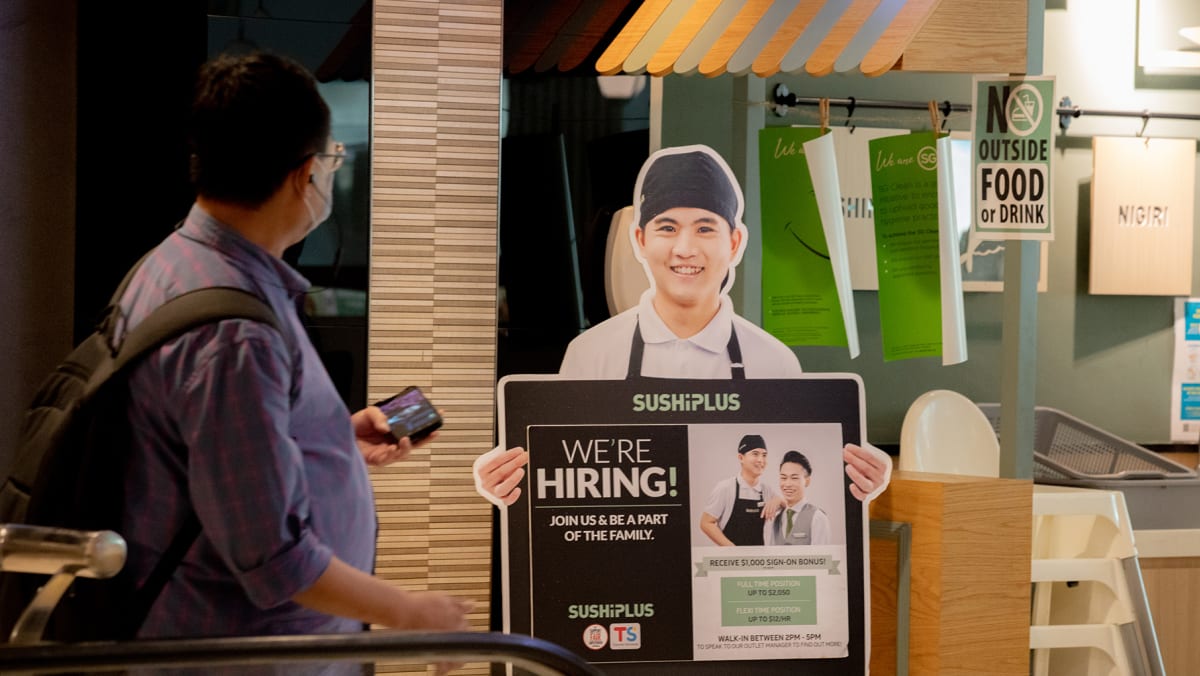 The great read in a nutshell: The F&B operator workforce conundrum – too few workers or too many restaurants?
CIMB economist Song Seng Wun said that although there are too many catering companies in the market, there are "enough people with enough money to keep thinking they can do something different while making money" in the industry.
But he added: "There are only so many people (to be customers) and we only have one mouth and one stomach. How many cups of coffee or bowls of salad can you consume?"
Mr. Song noted that the pandemic has obviously reduced the pool of potential workers for the F&B industry and "everyone is now fighting for a bigger cake." Enlarging the labor pie again, for example by increasing the supply of foreign labor, could increase the risk that catering companies are unwilling to innovate and be more efficient, he said. he warned.
Selena Ling, head of research and treasury strategy at OCBC Bank, added: "Many Singaporeans are drawn to the glamor of the F&B business, coupled with the perceived low barrier to entry, but may not realize not fully the hard work behind it…running (F&B) for the long haul isn't easy, as many alumni or survivors will tell you."
"PRESSING NEED" TO INCREASE F&B PRODUCTIVITY: GOVERNMENT AGENCIES
Amid competition for labor 'due to the oversaturated F&B sector', MOM and ESG said there is a 'pressing need' to improve the sector's productivity and reduce its dependence on regard to the workforce.
Based on government data, the sector's value added per actual hour worked – a measure of labor productivity – rose from S$10 to S$8.50 from 2011 to 2020. In contrast, value added per real hour worked for the whole economy went from S$46.80 to S$56.50.
In response to TODAY's questions, RAS Chairman Andrew Kwan noted that since 2016 the restaurant industry has embarked on a foodservice industry transformation map to improve productivity and embrace innovation.
Over the past 24 months, there have been more than 7,000 PSG requests for IT solutions and equipment, more than five times more than in 2018 and 2019.
Regarding RAS' call to increase the quota to hire more low-skilled foreign workers, MOM and ESG pointed out that in the service sector, the F&B sector employs the largest number of foreign workers.
Raising the dependency ratio (DRC) ceiling for the restaurant sector will only increase the overdependence of these workers, government agencies have said. DRC refers to the maximum allowed ratio of foreign workers to the total workforce that a company in the stipulated sector is allowed to hire.
MOM and ESG added, "This is likely to impede wage growth for our locals. It's not sustainable. Instead, we must continue to help our businesses transform and provide better paying jobs."
They reiterated that the DRC is "calibrated to allow access to foreign labor, while giving a boost to restructure and be more labor-poor".
"This helps our businesses achieve sustainable productivity-driven growth, better job quality and higher wages for our workers, and greater resilience in our labor market," MOM and ESG said. "Covid-19 has reinforced the importance of these goals."
COVID-19: A DOUBLE-EDGED SWORD FOR F&B BUSINESSES
Despite the chaos it has caused, Covid-19 has also offered many operators a chance to redefine their businesses.
Mr. Kwan of RAS said the challenges posed by the pandemic have accelerated the adoption of digital solutions by F&B businesses. "It was also evidently clear that those with contactless ordering and payment systems were increasingly being tracked," he said.
Mr. Yik from Dian Xiao Er added that due to the pandemic, F&B operators – including himself – have been driven to find a way to overcome the persistent labor challenges facing the company. industry is facing.
Saladstop Group also took advantage of the Covid-19 crisis to revamp its business model, said its CEO Adrien Desbaillets.
The group operates its eponymous salad bar, Heybo and Wooshi grocery stores and the Good Food People online vegetable grocer.
"The Circuit Breaker (in 2020) really taught us a lot," said Desbaillets. "We were shipping all over the island and we could start to see concentrations of orders in some parts of the island where we weren't present."
Following the data, his company opened a cloud kitchen – intended for deliveries only – in Katong in June 2020. The move was a "good strategy" for the company to grow and maintain revenue over the past two years, a he added.