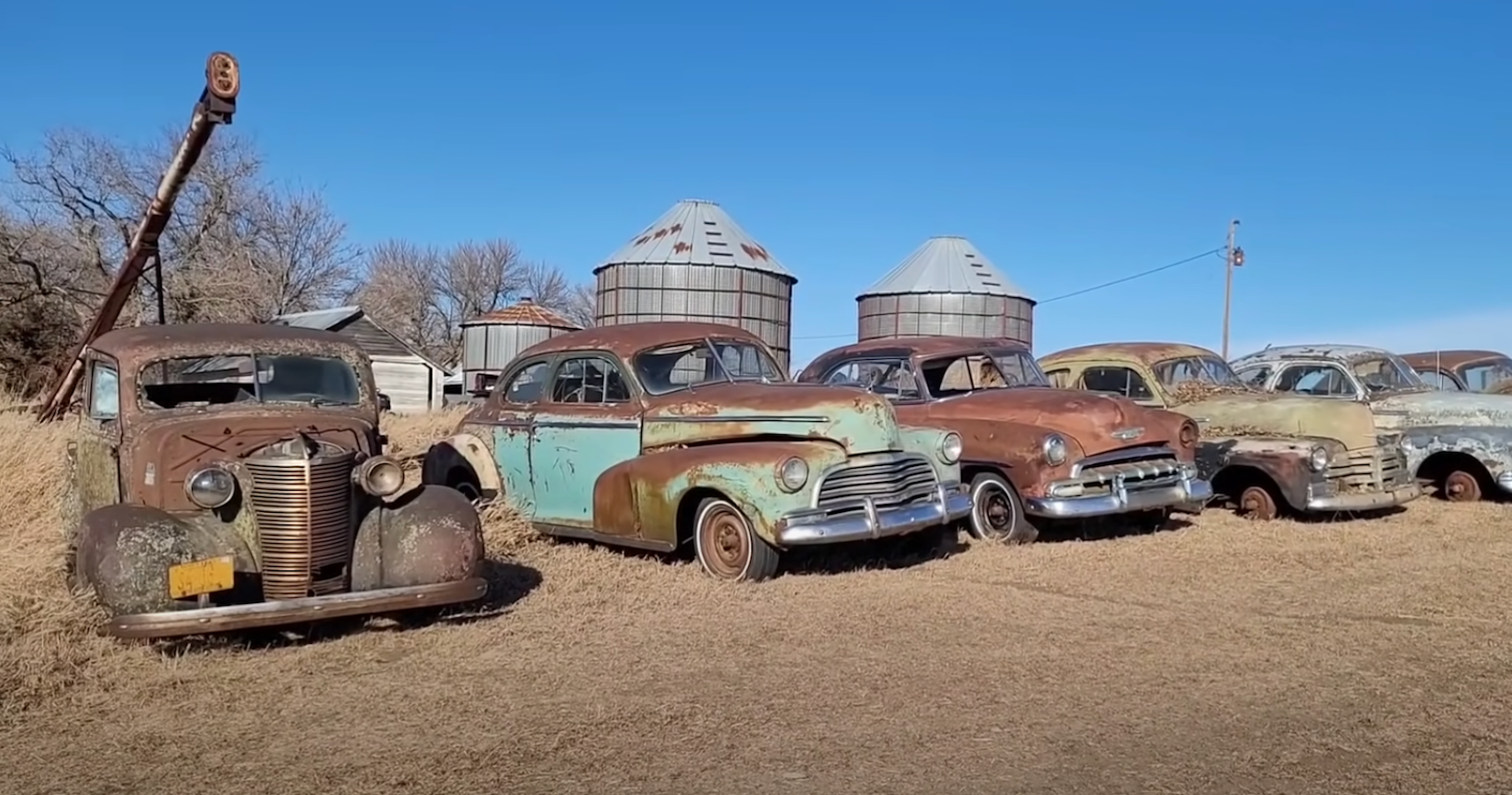 The farm that houses a vintage Chevy collection
There's nothing gearheads love more than coming across a vast collection of vehicles. It's even better when someone close to us buys them, and we don't have to pay for their upkeep. One gearhead who had this stroke of luck is automotive YouTuber Mr. Goodpliers. Earlier this month, his friend bought a farm with around 85 classic cars scattered around the grounds. Most vehicles are classic Chevy models spanning four different decades. Most of them have a lot of rust and need a lot of work. This collection acts as a showcase of General Motor's history. But the collection doesn't stop there, even with 1940s GMC truck cabs and well-maintained Lincoln models.
This collection is the envy of most gearheads.
How did this collection of Nebraska cars start?
Mr. Goodpliers' friend acted quickly and sold the well-maintained vehicles quickly. Moving of two light trucks and nine classic vehicles including coupes and pickups. When Mr. Goodpliers arrives, a series of automotive oddities are broken and in need of restoration. One such model that catches the host's eye is a 1984 Cadillac Deville coupe in white. The owners of the land always move the vehicles on the land, not all of them work, they use a forklift to organize the models.
RELATED:The Hidden Gems Hidden In This Texas Junkyard With 3,000 Classics
The question on the lips of many car enthusiasts is simple. How was such a collection possible? The models' former owner frequented car auctions. Most of these cars became unloved and unwanted, selling for around $20. It's unclear how long most of them have been waiting for the restoration, but even after inflation this is an impressive bargain. Some cars were even given to the owner because it wasn't worth the auction hosts towing them.
According to Mr. Goodpliers, the original owner had another motivation when buying all these vehicles. The collector's first car was a 1946 Chevrolet Convertible, much cooler than most people's first car. To keep her on the road, the owner then acquired a parts car for her. After joining the army in the 1950s, he found himself far from Nebraska in California. His father then sold both cars. In a move of revenge, he then started collecting and kept picking up new toys.
What are the remarkable cars in the collection?
Like many enthusiasts, one favorite brand is Chevrolet. There are far worse brands to choose from, Chevrolet's long history incorporates many interesting vehicles. Mr Goodpliers claims the collector owned 20 1956 Chevrolets at one time. These were all sold to another like-minded individual. The '56 is the Bel Air, one of the Detroit-based automaker's most iconic vehicles. In production for four decades, it has endured in the hearts of the public. With a cavernous hood, the Bel Air is the perfect candidate for a resto-mod project that uses an LS big crate engine. Another proof that the collector cared less about Ford, is a Ford brand vehicle left rusting on the ground, not even on cinder blocks. Harvested for parts, it's just the body and no frame is under the exterior.
RELATED: Junkyard Find: Dodge Charger SRT Hellcat Is in a Sorry State
One car that falls outside the Chevrolet framework is the Lincoln Continental Mark III. Not only does this car exist outside of the Chevy brand, it's not even a General Motors product. The Ford-owned luxury brand shared a platform with the Ford Thunderbird. This model competed in the luxury personal car market. Featured in French Connection, which features one of cinema's most influential car chases, the Continental Mark III is another icon that has found its home on this rural farm. In a shade of dark green with a black roof, this example is incredibly attractive. However, like any car that's been sitting outside for decades, it needs attention. The tires burst at some point and the wooden roof is collapsing. Not to mention the mechanical work needed to move the car forward.
What comes next for the Chevy collection?
As the team slowly removes each model from overgrown trees and shrubs, they meticulously search each car. Finding a penny, they pause for a moment, hoping it's a 1943 copper penny. According to coin pricing specialist Coin Week, values ​​these pennies at around $1 million each. Finding such wealth in a rusty classic car would be incredibly lucky. As they go through each car, the team notes which parts might be serviceable, such as visors and power-glide transmissions. Unfortunately, when even a steering wheel has rusted, that means a car probably can't have a full restoration without manufacturing every spare part.
Mr. Goodpliers describes these cars as "relics of our transport history". Although some vehicles in the collection are salvageable, most are not. These models in mid-February moved away from the Nebraska farm. Loaded onto flatbed trailers and towed by their modern equivalents, the gigantic scale of the collection is glaringly clear. These cars now await their fate as people buy them for project cars or tear them down for parts. Although they may remain intact for a little while. Mr. Goodpliers ends his third video on the farm by saying that in Nebraska, enthusiasts tend to prefer rebuilding classic pickups.
15 of the sickest cars found in junkyards
Even the most beloved cars will see the end of the line at some point, which is why there are sick cars in junkyards around the world.
Read more
About the Author