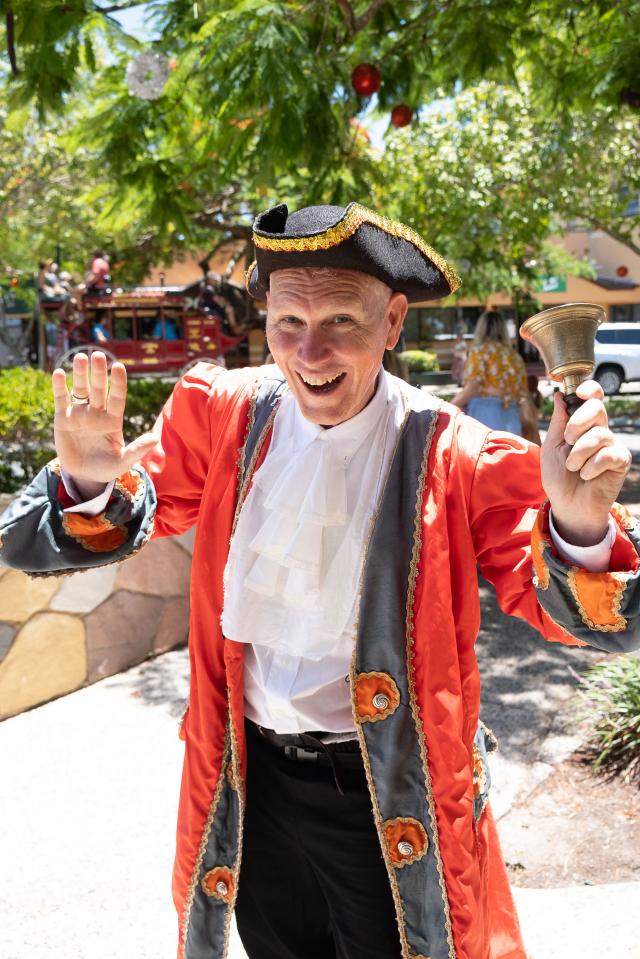 Tewantin goes back in time to celebrate
[ad_1]
Margie Maccoll
From Cobb & Co coaches and 19th century clothing to discussions of history, vintage cars, pits and a visit from Santa Claus, it was a journey through his 150th birthday that was presented at Tewantin last Saturday.
Noosa MP Sandy Bolton and Noosa Mayor Clare Stewart were on Poinciana Avenue to cut the birthday cake as residents and visitors reflect on the years that have passed.
Town Crier Frank Wilkie reveled in his role in informing the public about upcoming activities.
Members of the Little Seed Theater Company donned 1800s clothing designed by costume designer Leona Seib.
Leona said she sewed the outfits consisting of cotton skirts, bustiers and overskirts from Simplicity patterns but in their day they were most likely wool and calico with cotton, linen or silk underwear.
Fortunately, the theater company had this year performed plays from the Sherlock Holmes and Picnic at Hanging Rock period for which the costumes were created.
Gavin and Nara Stevens of Drayhorse Shires in Maroon brought their prize Shire horses and one of their Cobb & Co trainers which would have transported residents to and from Tewantin when the township was settled, and are now reserved for historic events , special occasions, weddings and funerals.
Gavin said they restored the "chic" car to pristine condition over four years and also owned a "poor man's car", which being smaller in size but able to accommodate more people, reportedly carried cars. ordinary people across the region.
There was no one on board a "shotgun" on Saturday, but a "guard", as they were called, was said to have been a mainstay of all coaches on the roads.
Loretta Mannon and Gavin Mutton came with their 1909 hybrid vehicle, capable of riding with or without a horse.
The only one of its kind in its original condition was brought by Gavin from Maine to the United States.
The day's entertainment included history talks at the Royal Mail Hotel, an afternoon of fun.
[ad_2]