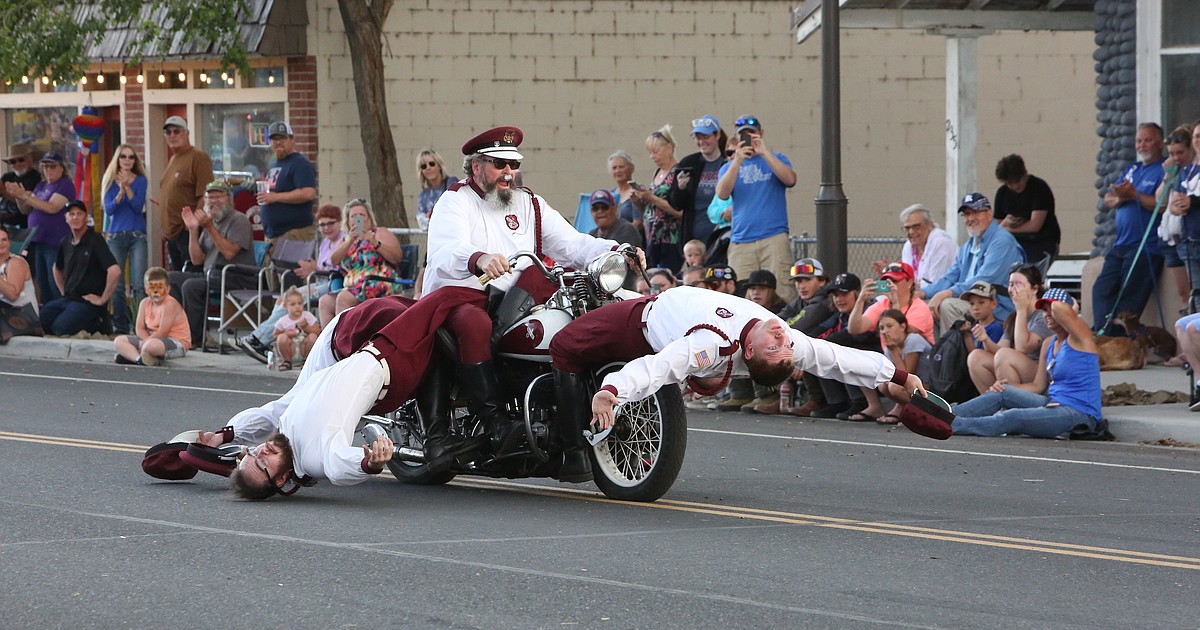 Seattle Cossacks travel to Soap Lake
SOAP LAKE – Despite the change in weather, the Seattle Cossacks rode down Main Avenue in Soap Lake on Sunday, performing stunts on their motorcycles for spectators thronging the street.
"We were here about 10 years ago and couldn't wait to come back," said retired team captain Andrew Nicholson. "When it was offered to us, we said, 'Here we are. ""
The show started under gray skies with occasional rays of sunshine at Soap Lake, but quickly turned into a downpour of rain and rumbles of thunder.
"We don't care," Nicholson said of the bad weather. "We were in the snow, we were in the rain, we played on gravel, we played on sand. Regardless, we've been doing this for 84 years.
The Seattle Cossacks are a motorcycle drill and stunt team that perform shows throughout the Pacific Northwest, performing many stunts on vintage Harley Davidson motorcycles. Riders will hang from each other, ride two motorcycles at once, flatten on another rider's head, and other tricks.
In some cases, the bikes were passed down from generation to generation, with some members of the Cossacks being third generation members. The age of the bikes ranges from 1930 to 1949 and have been kept in show ready condition.
"Some of these bikes have been passed down for three generations," Nicholson said. "You can build these bikes, they have parts available where you can build a whole new bike."
The motorcycles themselves are maintained by members of the Cossacks, independently owned and maintained. They are all street legal and insured, Nicholson said.
"Harley Davidson made them in the 30s and 40s," Nicholson said. "We own and maintain our own bikes, we all have full time jobs."
With the streets of Soap Lake bustling with life from the Suds N' Sun celebration, attendees gathered around Main Avenue to watch the ride of the Cossacks. Nicholson, the show's announcer, made pleas of "Are you still having fun?" to rally the crowd.
About halfway through the show, the weather turned and the skies opened up over Soap Lake. Despite the onslaught of rain, the show continued with the now soaked riders upping the ante in their performances.
"We're from Seattle," Nicholson said happily during the show, "We're used to rain!"
Once the show was over, so was the rain, clearing up with rays of sunshine penetrating the sky. The Cossacks lined up the vintage Harleys in the middle of the main avenue, allowing spectators to get a close view of the performance bikes. Several spectators took pictures with their children standing next to the motorcycles.
"Oh, we love it," Nicholson said of the large crowd of spectators. "Look how excited the kids are – the funniest part of this show is this. It's not so much about doing stunts, it's about meeting the people, socializing with them afterwards. You gotta love it people to even be part of it.
Ian Bivona can be reached at [email protected]