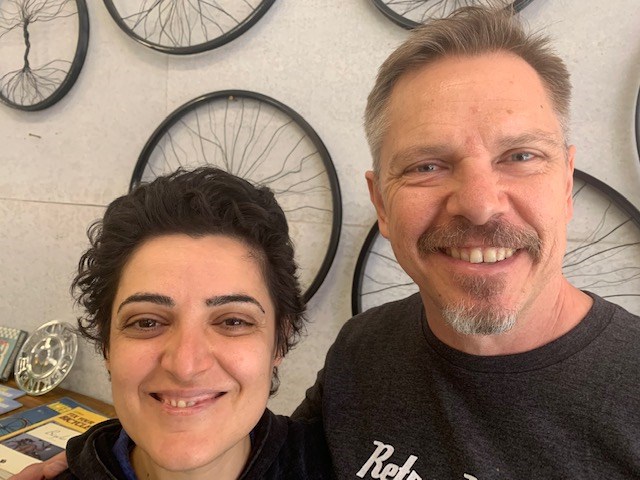 Retro Rides and Escape Tours counts on good stuff for Sparks Street
The Sparks Street Mall was originally intended to be a busy pedestrian mall. Things didn't turn out that way.
The original plan to close Sparks Street to vehicular traffic in 1967 was to give locals and tourists a beautiful pedestrian mall to visit, walk, shop and live.
However, it didn't quite turn out that way, according to Jason Komendat of Retro Rides and Maria Rasouli of Escape Tourism and Rentals. As partners, the duo co-own the Ottawa Bike Cafe.
They should know.
Komendat and Rasouli call their funky bike shop and cafe at 79 Sparks Street their second home. It is a beautiful basilica for everything related to cycling. Vintage bicycles hang on the walls like stained glass. There are as many baristas as bike mechanics. The atmosphere is fresh and friendly with a unique experience.
But on the street, instead of the return to the pre-COVID-19 shape they had hoped for, the couple see an empty avenue largely abandoned by government workers, local shoppers and tourists who used to make Sparks Street the one of Ottawa's busiest commercial streets.
Few commercial areas in Ottawa have been harder hit by the COVID-19 pandemic and ensuing pandemic lockdowns and protocols than the famous pedestrian mall on Sparks Street. It is a story often told. March 2020 and overnight, the city shut down and about 200,000 officials and thousands of tourists, the soul of street commerce, stopped visiting the city.
Seemingly overnight, about 36,000 to 38,000 people who cycled to work downtown every day and visited Retro Rides for service and parts disappeared. The 3,000 to 5,000 people served by Escape Rentals each year have stopped coming.
For the Sparks Street Business Improvement Area (BIA), which was already struggling to generate business before the pandemic, the closures have been devastating. Sparks Street has become a ghost town.
"It was as if our neighborhood had burned down, all these people had disappeared," says Komendat. "It was difficult to lose our clientele overnight like that. We are always here. I don't know exactly why sometimes, but we are filled with hope.
To adapt to the new pandemic market, Komendat and Rasouli have smoothly pivoted the business, opening the Ottawa Bike Cafe where they serve coffee, craft beer, light meals and live music, in 2021. The duo are determined to keep the business running the way it did before the pandemic.
"If we go through COVID, Sparks Street could be an amazing destination, this street will become what it was meant to be," Komendat says. "We need traffic flow. So if they close Wellington Street behind us to cars, Sparks Street is going to become even more of a dead zone.
What the pandemic has done is exacerbate the marketing issues that Sparks Street Mall had grappled with for 50 years. Attract foot traffic. After the government offices closed, shopping mall customers also closed.
There are, on occasion, signs of life for the spinster like when the BIA presents Poutinefest or Ribfest. Then, the street is crowded with onlookers and pedestrians. But when these events are over, people disappear because there are so many vacancies on the street.
Frustrated, Komendat and Rasouli hope for the three ministries that run the mall; Public Works, Government Services Canada and the National Capital Commission (NCC), will have a more permanent solution to restore the path to good health after the pandemic. They recently commissioned plans to rebuild Sparks Street into a greener, more pedestrian-friendly mall.
An entrepreneur by trade, Komendat started his bicycle business in 2012 from his home, selling handmade bicycles made before 1990.
"Cycling is my addiction," he says. "It's freedom, sanity and freedom. It sharpens the body and the mind and the old handmade bicycles are works of art.
In 2017, his business was going so well that he quit his day job as an independent contractor and opened the first Retro Rides on Sparks.
Originally from Iran, Rasouli came to Ottawa to do a PhD in organizational psychology and teach at Carleton University. She found Ottawa to be such a beautiful place and started renting bikes and running historic site tours in 2015, launching Escape Tours and Rentals on Sparks in 2016.
Bike trail tours of Old Ottawa and Hull where they see national landmarks and hidden historical gems.
"Jason and I share the concept of the cycling lifestyle on Sparks Street," she says. "The area is a beautiful place and people think they know a lot about the city. Then they tour with us and they're honored because they learned so much in two hours.
"We have great confidence on the street," adds Komendat. "We like the fact that there are no cars on the street. That's great for a bike shop. But we didn't see the foot traffic we had before COVID-19. Our company is losing money because there are too many vacancies on Sparks. It needs vibrant businesses to bring people back.