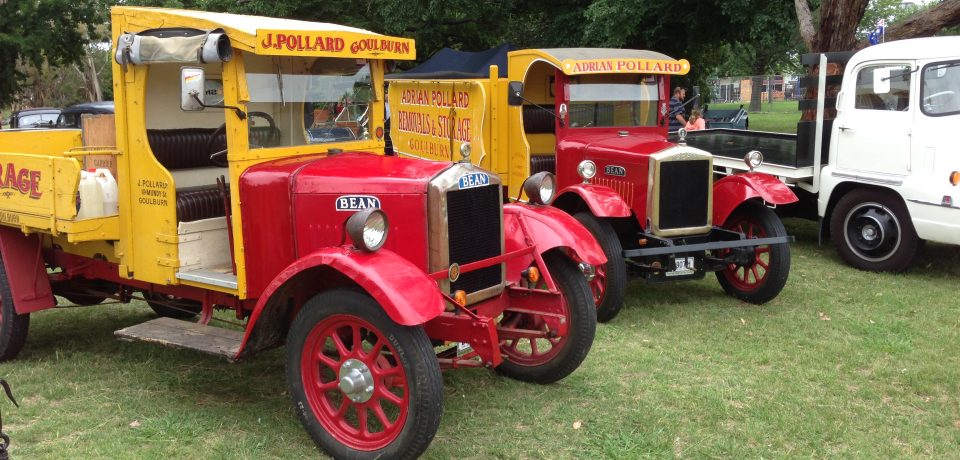 Old Bean never lost its luster for Adrian Pollard
These two restored Bean trucks bring back happy memories for Adrian Pollard, a retired fourth generation mover from Goulburn. They look like the two trucks his grandfather John Dalby Pollard bought in 1926.
John was well known for his brute force lifting furniture.
In the early 1900s, on a Sloane Street ice rink filled with hundreds of skaters and spectators, John hoisted a big piano on his shoulders and took it up the triple stairs. He lived to be 82 and watched the Pollard company go from ox hitches to horses to motor trucks, including its two smart Bean platforms.
"These were the first two balloon tire trucks he had ever purchased," said Adrian.
---
READ ALSO: Lorraine Emerton's Love for Cocker Spaniels Outweighs Ribbons
---
Made in England, the Bean arrived in Australia as an engine and chassis. Their bodies were added to Sydney or Melbourne. One of the 10 children, John's father had also come from England to Australia. Born in Gretton, a village in North Hampshire, he was also called John. He teamed up with another businessman on the trip to Sydney and the couple moved to Windsor.
John met and married a local woman, Henrietta Dalby, and they left after the Hawkesbury River flooded. They moved to Liverpool from where John started a business, hauling timber for a new southbound railway line from Sydney. The Pollard family grew over the following years living in Campbelltown, Picton, Marulan and Goulburn as the main southern rail line moved south.
The Pollards arrived at Goulburn before the railroad in 1869. They loaded the first bale of wool onto a train at Marulan. Their ox teams transported goods between Sydney and Melbourne. His son John was born in Marulan. Later joining the family business, he worked there for 60 years.
Weekly bulletin
We compile the most read region stories from the past week and send them straight to your inbox every Thursday afternoon. Membership is the easiest way to keep up with the times, just one click away.
Having fond memories of his grandfather's Bean trucks, Adrian found other Bean trucks over 30 years ago. He found one in Burnie, Tasmania, and another in better working condition near Tamworth.
---
READ ALSO: If you are fed up with life at full speed …
---
Burnie's Bean truck was hauled in the back of a trailer to Goulburn, where it stood still as Adrian left for work out of town. While she was away, her son Phillip and daughter Karen found an old plastic gas tank from a Victa motor mower that they hung on the Bean's firewall. Adrian said they stuck a pipe into the engine and managed to start the truck.
When Adrian told vintage car enthusiast Bruce Booby that he was planning to take Burnie's old Bean apart for spares, his mate shook his head.
"You also have to restore it," he said. Bruce then helped lend Adrian a hand, pounding panels, spray painting, and restoring the woodwork on the trucks. Goulburn Vintage and Veteran Car Club president Bruce said stepping into Adrian's shed is like stepping back hundreds of years. Inside the hangar, an old horse-drawn vehicle and Common Knocker trucks are reminiscent of transporting railway ties, fence posts, bales of wool, and tons of household furniture.
Adrian retired as a mover five years ago.
"I don't miss work, but I miss communicating with people and hearing their stories," he says. Pollards operated between Melbourne and Brisbane, but preferred southern New South Wales as it was more likely that they would get jobs late to help balance their operating costs.
He worked with his brother Roger for some time, until he went away on his own, and another brother David, who went to work at the Police Academy. His nephew James is Pollard's fifth generation in the moving industry.
One of Adrian's most interesting messaging jobs involved taking a patient with a steel lung from Goulburn Base Hospital to Prince Henry Hospital in Sydney, along with a doctor and engineer on board.
The trucking industry has come a long way since the days of the oxen teams. Today, furniture travels in huge vehicles along highways faster than pioneer John Pollard could have imagined.
Original article published by John Thistleton on Riotact.