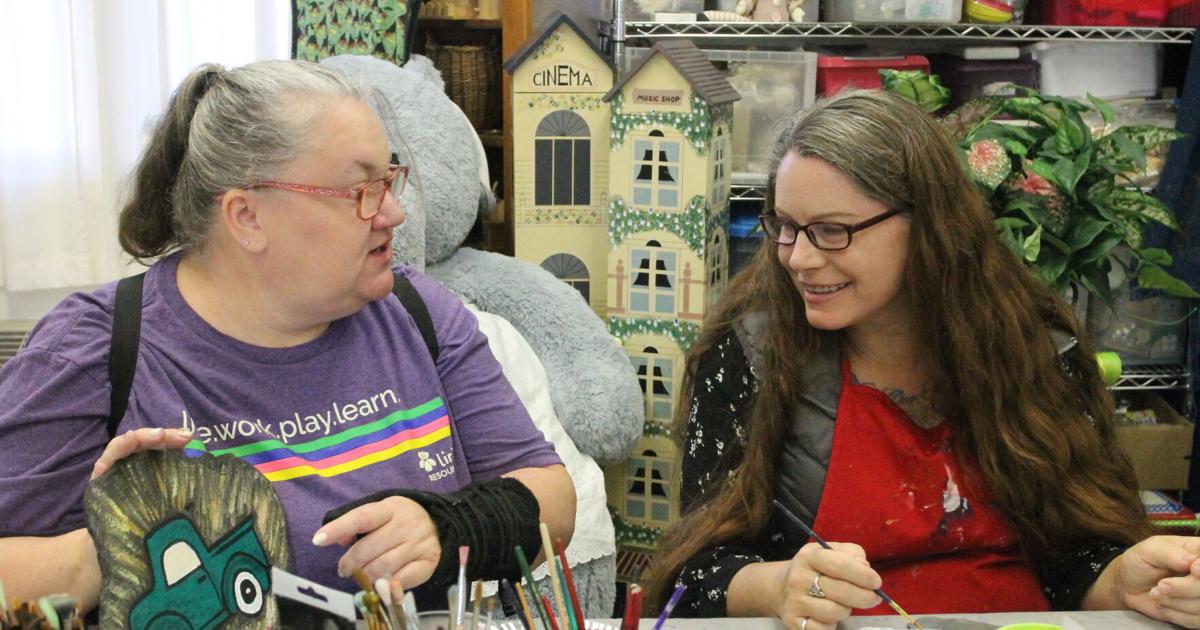 Logansport Art Association celebrates fall with Fall Fest | New
Christel Rascon and April Hurley explore career options. However, exploring them did not involve browsing through wanted help ads in the classifieds.
"I'm rediscovering something I fell off of, but trying to get back to it," Miller said, swirling white and blue paint on a piece of black slate.
The women were enjoying the Logansport Art Association's annual Fall Fest, which took place on SaturdayOctober 29.
The festival was open to community members and included crafts, vendors, and a soup and baked potato bar.
Slow cookers of various soups and potato toppings like cheese, bacon bits and sour cream adorned the kitchen at the Logansport Art Association. Jane Williams, president of the Logansport Arts Association, said the organization's nine-member board cooks the soups themselves and brings in the potato toppings and desserts.
The greatest interest, however, came from a room next to the kitchen. Inside, the children daubed paint on round wooden ornaments. A woman worked on a colorful mug, and Rascon and Hurley sat down to paint pieces of dark slate with Joan Miller.
"I had to find something on the fly because I was like a deer in the headlights," Rascon said. "I didn't know what I was going to do, so I thought I had to keep it simple. A white peacock is simple, so I thought, 'Let's try this.' »
While Rascon added gold tips to the tips of his peacock feathers, both Hurley and Miller painted vintage cars on their slates.
Miller said her husband was watching a football game at home, so she decided it was the perfect time to visit the arts association. She traced the outline of the red truck on her slate. Miller chose her design because it reminded her of a vehicle she and her husband owned.
Hurley chose to paint her truck green, but she added orange and yellow beams reminiscent of a sunset around the outer edges. At the bottom of the slate, she painted small touches of pink flowers.
"I really wanted pink on it," Hurley said. "My husband hates pink. I love pink. He likes green and old vehicles and things like that. That's why I wanted to do the picture, but it also goes in the house where I live, so we become roses.
Elsewhere in the room, Logansport Art Association Vice President Terri Abbott helped her grandson Camden Shea finish painting a white wooden block with cheerful eyes, a carrot nose and a scarf ribbon wrapped around the bottom.
"It was fun," Shea said. He added that his snowman would be called Snowy. "It's really cool how it turned out in the end."
Williams said attendance at the festival this year was significantly higher than last year. She said the Logansport Art Association is a hidden gem in the community, and she thinks posting about the event on Facebook has helped more people learn about it.
"Word of mouth spread," she says. "Actually, I had more vendors than space for this year. Unfortunately, we're not big enough to put too many on, but the ones we had, we tried a lot of homemade things.
For some vendors like Carlee Osborn, owner of OG Confections, the Logansport Art Association's Fall Fest was their first experience as a vendor at a local event. Osborn brought fall cupcake flavors like Apple Cinnamon, Maple Bacon, and Carrot Cake.
Keith Binkerd has manned booths at previous Fall Fests, and he said he's recently started branching out by creating different types of ceramics than what he's brought to previous festivals. He went from ceramic animals and figurines to glazed bowls created on a potter's wheel.
"I love experimenting with glazes," he said.
Whether making art or selling it, everyone at Fall Fest agreed that the best part was meeting new friends and enjoying a sense of camaraderie.
"It's been really nice," Osborn said. "I had a lot of family friends who came out to support me, so it was really nice. It's nice to see all the support, and it's nice to meet new people. I feel like part of the community.