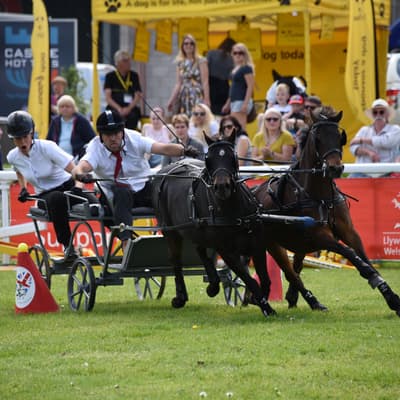 Less than 100 days to the first Royal Welsh Agricultural Society event of 2022
Last Thursday, February 10, marked exactly 100 days before the Royal Welsh Agricultural Society's first event of the year.
The Farmers & Countryside Festival. Having been canceled due to the coronavirus pandemic, this will be the first smallholding and countryside festival since 2019, and the Society is delighted to welcome visitors back to the Showground this coming spring.
Taking place from May 21-22, the weekend-long event is a celebration of rural life and country living with smallholding activities at its heart. With a full schedule of livestock and equine competitions, shows and activities, there is something for everyone.
A variety of different breeds of animals to see at the Smallholding & Countryside Festival.
(RWA ) (RWA)
This year the festival welcomes gardening expert and TV presenter Charlie Dimmock to present a talk on wildlife and water on Saturday, so be sure to grab a ticket from the society's website for this fantastic event. !
The festival is a showcase of the true diversity of the Welsh countryside and a great day out for young families, rural dwellers and anyone with an interest in the great outdoors.
There's a lot to see and learn at this year's event. Whether you're looking for inspiration for your garden, getting a glimpse of a new business or want to improve your skills and knowledge of smallholding life, the Festival is the place to be. .
The Smallholder Center will continue to be the main port of call for those wishing to learn more about the smallholder lifestyle. As in previous years, there will be useful information and discussions to get involved in, as well as the "Smallholder Hub" – a social space to meet other smallholders, share knowledge and get advice for those just starting out.
The Smallholders Center will be the perfect place to stock up on essentials at the farming and smallholding themed stalls – whether you're looking for a few chickens to add to your flock, a new bucket or perhaps a piece of machinery , you will be sure to find what you need at the event.
The display ring will be filled with displays for your entertainment, including show jumping, speed driving, dog shows and BMX bikes. The Welsh Festival of Landrovers will showcase their selection of vintage vehicles with the Parade of Landrovers and Meirion Owen returns with their hugely popular Quack Pack.
All the usual attractions and areas will be there again for your enjoyment. Explore the Country Life area, with the bandstand, Premier Open Dog Show, forestry competitions, sport and countryside activities and British Association of Shooting and Conservation (BASC) competitions and demonstrations.
Check out The Wool Zone, which hosts wool-handling competitions, stalls and demonstrations of blade shearing, spinning and weaving. Other attractions include the Vintage Flea Market, Craft and Education Hall, and British Army activities.
It wouldn't be a Royal Welsh event without showcasing the best food and drink that Wales and the border counties have to offer! Come and taste the delicious products in the famous Food Hall or take a break and have lunch in the popular Street Food.
Do you want to exhibit or participate in competitions?
– Livestock & Equine entries – opening on March 1, closing on April 4, 2022.
– Wool handling competition – opening on March 22, closing on April 29, 2022.
– First Open Dog Show – Registration is open now. Mail-in registrations close April 11 and online registrations close May 3, 2022.
Visit the company's website for information or details on how to enter. More details about competitions and schedules will be released in due course.
Tickets for the Smallholding and Countryside Festival are now on sale here. An adult day ticket costs £16, a child ticket costs £5 (5-16 years) and children under 5 are free.
For more information on the event, please visit our website at www.rwas.wales / www.cafc.cymru.