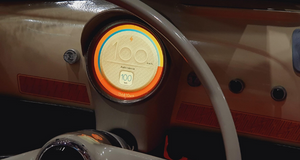 Incari presents modern HMIs for classic cars
BERLIN-based tech company Incari has teamed up with the Bangalore State School of Design and French company Design 1880 to create modern human-machine interfaces (HMIs) for electrified classic cars.
As more modernized classics hit the world's roads, Incari CEO Osman Dumbuya says it's important that beloved classic and vintage models meet today's legal and environmental requirements today.
"We and our partners are bringing together the perfect tools, know-how and experience to leverage the past for a better and more sustainable future," Mr. Dumbuya said.
As a growing number of collectors, custom garages and backyard builders seek to renew the technology inside classic vehicle bodies, niche manufacturer HMI says its product is becoming highly sought after.
In addition to bespoke systems for older cars, it also produces unique instrument and control panels for vintage boats and aircraft. Mr. Dumbaya said that it was possible to adapt Incari's HMI and drive technology to any type of vehicle without losing its flair.
The company is already well known for its state-of-the-art electronic systems. For example, the e-Lorean, produced by the German company Wunderkind Invest, was fitted with a specially developed electric driveline and a bespoke HMI.
She also recently completed an electrified classic Fiat 500, whose digital display is connected to the operator's smartphone via a "special app".
Mr. Dumbaya said it was important that the HMI was developed to make you think it was developed in the same period as the car. The casing, the pattern and even the fonts used on the various readouts of the steering column-mounted display are all in keeping with the retro essence of the 500.
The circular digital display provides speed, charge status and other "relevant information". The display layout and color can be customized by the operator to suit their mood.
"Incari offers a software platform with an intuitive visual user interface to design state-of-the-art HMIs. It allows users who lack programming skills to design complex 3D interfaces, while simultaneously generating very clean programming code," Dumbuya said in a statement.
"In addition, Incari provides a common software environment for developers and designers who are already in the prototyping phase. This brings flexibility and saves time.
"The software also takes a 3D approach. This offers completely new possibilities in terms of user comfort, especially in connection with augmented reality.
"The Incari method promises a reduction in development times in the field of HMI of up to 70%, as shown in comparative projects, with simultaneously reduced staffing requirements and a better end-user experience" , he concluded.
The Road to Recovery Podcast Series