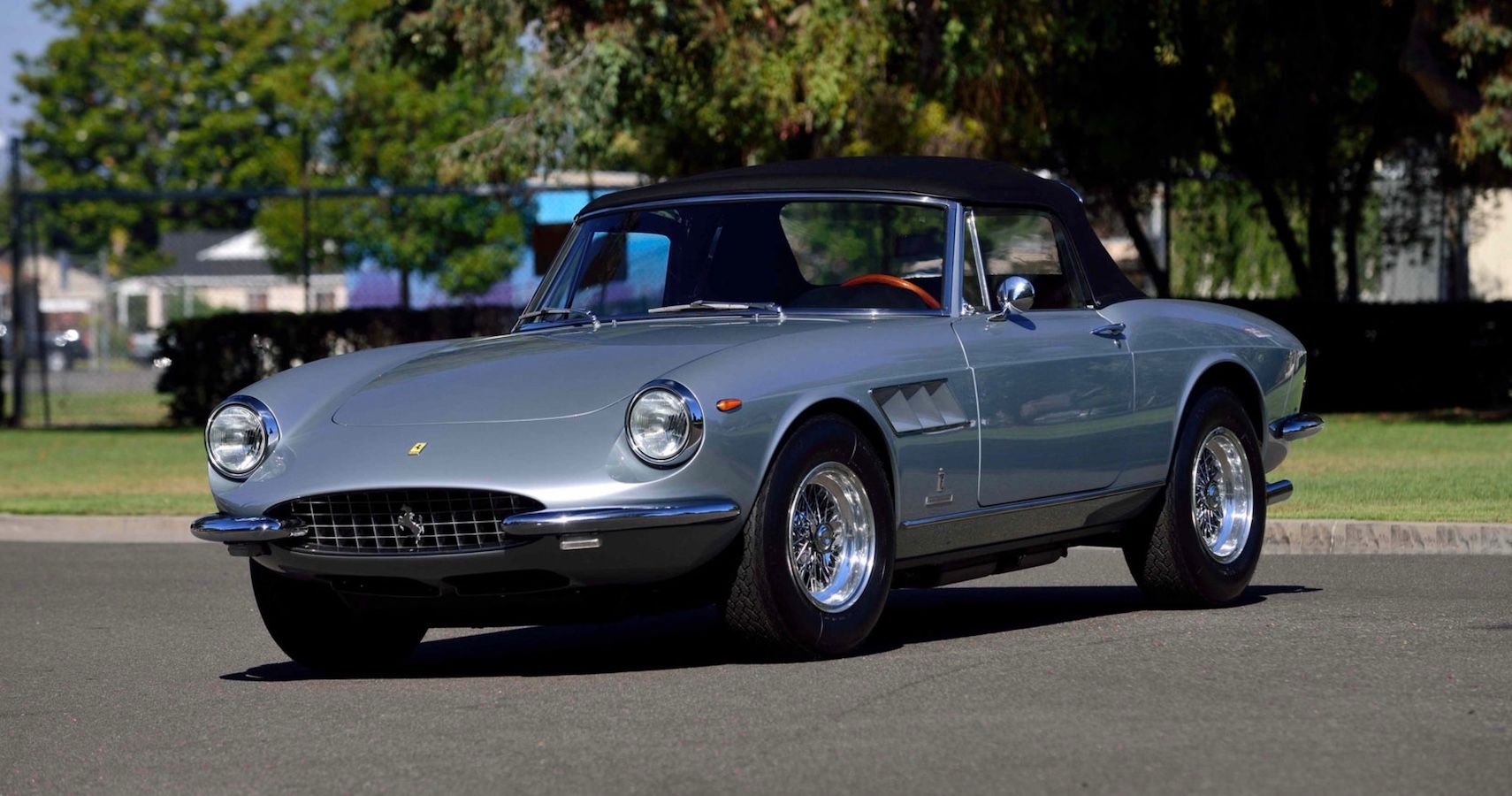 Here's what we love about the Ferrari 330 GTS Targa
The Ferrari 330 series, built between 1963 and 1968, consists of cars powered by V12 engines with a displacement of 330cc which influenced the names of the automobiles in the series. Ferrari then produced the 330 GTS vehicles from 1966 to 1968.
With only a hundred of these automobiles manufactured, the 330 GTS cars are two-seater Spiders designed by Pininfarina. This made these vintage cars extraordinarily exclusive and limited. Pininfarina assembled the cars at its factory in Turin, Italy, before sending them to Ferrari, who then installed their mechanical parts.
The 330 GTS is similar to the 330 GTC, being the sporty version of the latter, except for its folding roof. The 330 GTS eventually became the Ferrari 365 GTS series in 1968, with an engine upgrade and some cosmetic changes.
Read on to find out what we love about the 1969 Ferrari 330 GTS Targa.
RELATED: 10 Celebrities Who Probably Can Never Buy A Ferrari Again
William Harrah customized the 1969 Ferrari 330 GTS Targa
William Harrah, a renowned American car collector, customized the 1969 Ferrari 330 GTS Targa with serial number 10913. In addition to collecting cars, Harrah was also a businessman who built hotels and casinos. It later became Harrah's Entertainment as we know it today.
Based in Reno, Nevada, the 330 GTS Targa features a Targa roof, unheard of in previous Ferrari car models. In addition to that, the model also featured a roll bar with a stainless steel cover with a removable roof panel covered in black vinyl. It also featured a long, sloped, tinted Perspex rear screen and a shorter than average trunk lid.
Despite this, William Harrah did not keep the 330 GTS Targa for long. Perhaps this was due to a short-lived marriage between him and country singer Bobbie Gentry, who would have liked to take a ride in his 330 GTS Targa.
The Targa Ferrari has a SOHC V12 engine
Single overhead camshaft (SOHC) per bank, two valves per cylinder The Colombo V12 engine with a wet sump lubrication system powers the 1969 Ferrari 330 GTS Targa. There is a longitudinal engine located at the front of the engine. vehicle and is identical to the previous Ferrari 275 GTS series. The engine had a displacement of 3967 cc and a bore and stroke of 77 x 71 mm.
The V12 engine can produce a power of 221 kW at 7,000 revolutions per minute (rpm) with a compression ratio of 8.8: 1. A single spark plug for each cylinder, with two coils, ignites the engine. The 330 GTS Targa can reach top speeds of up to 242 km / h, which is fast for the time.
With a five-speed transmission, the 330 GTS Targa was fitted with worm and roller steering with disc brakes. The front and rear suspensions are independent with unequal length wishbones and anti-roll bars. In addition to this, the suspensions also include coil springs placed above telescopic shock absorbers. The 330 GTS Targa is also fitted with Michelin XWX 205VR14 tires with a width / profile of 205/14. This is also similar to its predecessors, the 275 GTS series.
RELATED: What Makes the Daytona SP3 Ferrari the Most Aerodynamically Efficient Model Ever
How the two-seater spider fits into the Ferrari 330 series
As the 1969 Ferrari 330 GTS Targa is a two-seater spider, it emphasizes its sports car appearance and character. That aside, the 330 Targa has a length of 4,430mm, a width of 1,675mm and a height of 1,250mm. A tubular steel frame has a dry weight of 1200 kg. It also has a wheelbase of 2,400 mm.
With a custom Targa roof, the 330 GTS Targa comes with a removable roof section. It also came with a full width roll bar located just behind the seats.
Besides the 100 units of the Ferrari 330 GTS models, Ferrari produced 598 units of the Ferrari 330 GTC. As mentioned earlier, the 330 GTS were the sporty versions of the 330 GTC, which are two-seater coupes.
For the other models of the Ferrari 330 series, there is also the Ferrari GT 2 + 2, with 1099 units produced. Likewise, Pininfarina designed the models and produced them in the mid-1960s. The GT 2 + 2 had an engine similar to that of the 330 GTS Targa.
However, it had a 4-speed transmission with overdrive and a slightly different rear suspension with a drive axle with double spoke arms. It's also a bit longer, wider and taller than the 330 GTS Targa, making it heavier with a dry weight of 1380 kg.
Another notable model of the Ferrari 330 series would be the Ferrari 330 P series, which were prototype sports racing cars. The same engine as the other 330 models is fitted to the 330 P series, but with a higher output of 450 hp at 8,000 rpm. With a low weight of 792 kg, they can reach speeds of up to 320 km / h.
8 wild differences between the Lamborghini and Ferrari rivalry
When it comes to hot wheels, there are two brands that come to mind: Lamborghini and Ferrari. But, when tested, which brand is better?
Read more
About the Author