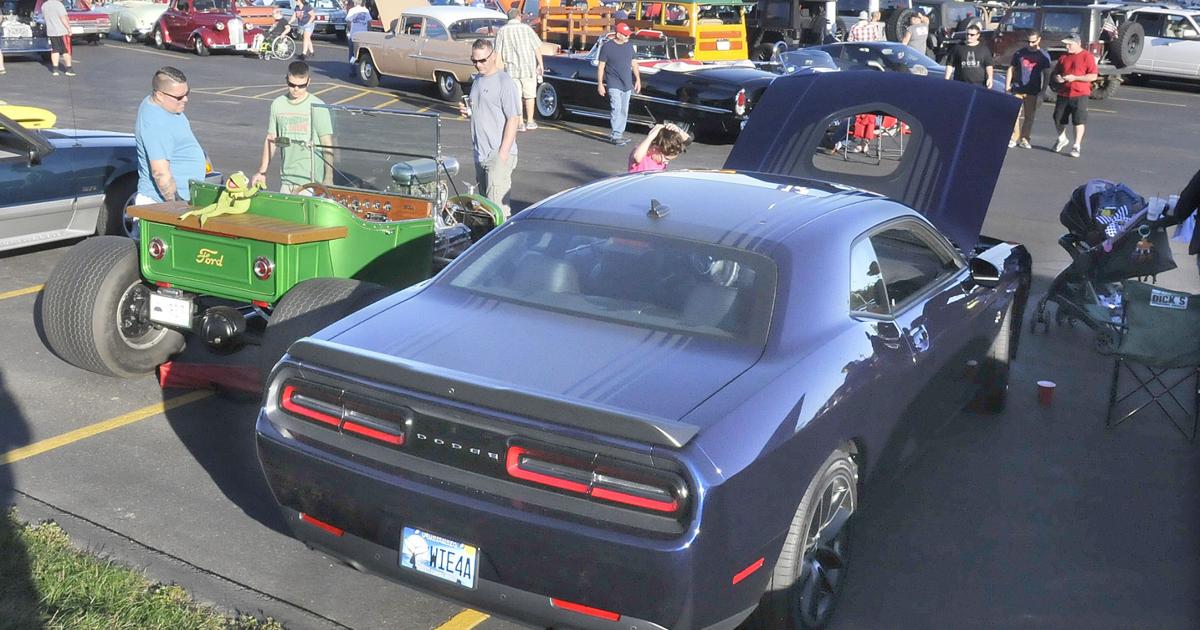 Foxboro Jaycees to Host Antique Vehicle Show Downtown July 10 | Local News
The overwhelming combination of high-octane muscle cars and $4-a-gallon gasoline might make some car enthusiasts think twice about showcasing vintage vehicles this summer.
But Foxboro Jaycees is betting area auto enthusiasts and their supporters will jump at the chance to attend a premier event that will turn quaint downtown Foxboro into a festive car show.
The July 10 event, which was approved Tuesday night by elected officials, is the latest community project undertaken by Foxboro Jaycees, according to organizer Amy LaBrache.
"Basically, it will be a family event," LaBrache told council members, adding that participating vintage car owners will display their vehicles at multiple locations downtown.
Although details have yet to be finalized, Jaycees requested use of the City Hall parking lot, the public parking lot between Central, Cocasset and Wall streets, and the private parking lots at Foxboro Federal Savings and Rally Point. Inn & Pub on Mechanic Street.
In addition, Central Street will be closed to traffic from Wall Street to the Common for the duration of the event, Speaker-Elect Leah Gibson said.
"There's been a lot of excitement about this event," Gibson added. "He's a new one and I hope he's here to stay."
In total, LaBrache said, organizers believe they can accommodate up to 120 vehicles in the various lots without crowding.
" We hope [vintage car owners] will pre-register," she said, adding that all participating vehicles will be parked at noon with a judgment between noon and 2 p.m. "We will only allow enough cars for which we have spaces. .
LaBrache said Jaycees plans to promote the event by circulating flyers at the seasonal vintage car rallies held every second Thursday night outside Bass Pro Shop in Patriot Place, which are sponsored by the Mass Cruisers Auto Club.
In addition to the formal judging, viewers will be able to weigh in by voting on a "people's choice award," LaBrache said.
Because organizers won't be providing food or refreshments, LaBrache said downtown merchants will be motivated to take advantage of the festivities to boost their own businesses. She added that Jaycees plans to personally reach out to every downtown business, both to let them know of any potential disruptions and hopefully encourage them to participate.
"Once we get approval, we'll go to each business, face-to-face, and have a conversation," she said.
Cindi Haddad, owner of Cindi's Diamond & Jewelry Gallery on Central Street and president of the Foxboro Common Business Collaborative, said local business leaders were excited about the car show project.
"We were very supportive of the event and the opportunity to see something like this come to downtown," she said.
LaBrache said proceeds from a 50/50 raffle on July 10 will be split evenly between the winning ticket holder and Foxboro Fire & Rescue's efforts to refurbish a vintage Ahrens-Fox fire engine that was originally purchased by the city in 1938 for $8,500.
The vintage fire truck, donated to Foxboro in 2020 by a Michigan collector who acquired it in the mid-1990s, is notable for its color: the vehicle was Foxboro's first-ever white fire truck, setting a distinction with the more conventional red coloring which still persists locally.
In a related matter, Jaycees used this week's platform with selectors to announce an upcoming spring vendor fair scheduled for Saturday, May 14 from 9 a.m. to 3 p.m. on the Common. The rainy date is Sunday, May 15.
Launched in 2010, the seasonal event has grown in size and scope to the point that in 2019, before the intervention of the COVID-19 pandemic, 100 artists, artisans and vendors from the region participated.
Past vendor fairs have featured a wide variety of merchandise, including homemade quilts and clothing, woodwork, handmade soaps and body care products, pet accessories, candles and handcrafted jewelry.
And finally, Mark Rivard, who sits on the organization's board of directors, told selectors that the Jaycees' traditional Concerts on the Common series will begin this year on Thursday, June 9 with a performance by the Foxboro High School Jazz Ensemble.
Rivard said organizers have lined up 10 different acts, some familiar to local audiences, for the free outdoor performances, which have taken place at the Common bandstand since 1991.