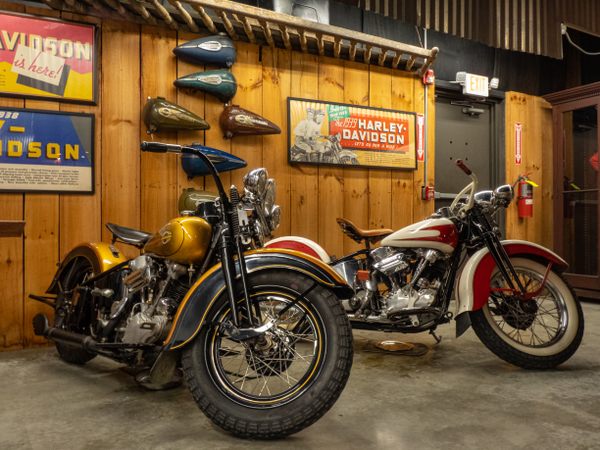 Dale's Wheels Through Time – Maggie Valley, NC
With over 350 rare and vintage motorcycles on display, this western North Carolina facility is widely considered to house the most extensive collection of American motorcycles and associated memorabilia in the world. There are bikes that run, bikes that jump, those that roll on walls, and those that climb mountains. And while it's technically called a "museum," the artifacts here aren't just gathering dust. In keeping with its slogan, the "working museum", nearly all of the bikes on display, even those over a century old, are kept in working order.
The collection is the work of the late Dale Walksler, a man for whom the word "passionate" is not enough. He built his first motorcycle at age 15 in 1967, opened his first Harley Davidson franchise at age 22, and began compulsively acquiring historic motorcycles and restoring them to working quality. Its fleet of rare (and running) makes and models grew exponentially until 2002, when Wheels Through Time opened in North Carolina's Maggie Valley.
Even with 38,000 square feet of exhibit space, the museum is packed with decades of automotive history. While Harleys, Indians and Excelsiors ("The Big Three") make up the bulk of the fleet, Dale's collection includes a number of rarer brands like Henderson, Popes, Flying Merkels and Crockers, as well as a handful of obscure vehicles (including Steve McQueen's 1949 Cadillac Series-62).
Exhibits include (but are not limited to) the "Swim Shop," a replica 1940s Harley repair shop with dirty rags and neon signs; "Military Might," exploring Harley and Indian's role in several American war efforts; and "Homemade in America," which highlights the unique American heritage of turning motorcycle parts and engines into all-new machines like gold mining carts, jet skis, and airplanes.
Standout individual bikes include a 1903 Indian, the oldest machine on display and probably the oldest running original Indian; a 1911 Wagner owned by Clara Wagner (daughter of the company's founder), an accomplished and pioneering motorcyclist; and a 1916 Traub, the "world's rarest motorcycle," unearthed from within the walls of a Chicago apartment building whose origins museum staff have been working to uncover.
Even if you are an experienced biker with extensive knowledge of motorcycles, there is definitely something here to surprise you. And if you're not a biker, Dale can let you envision a life on two wheels.