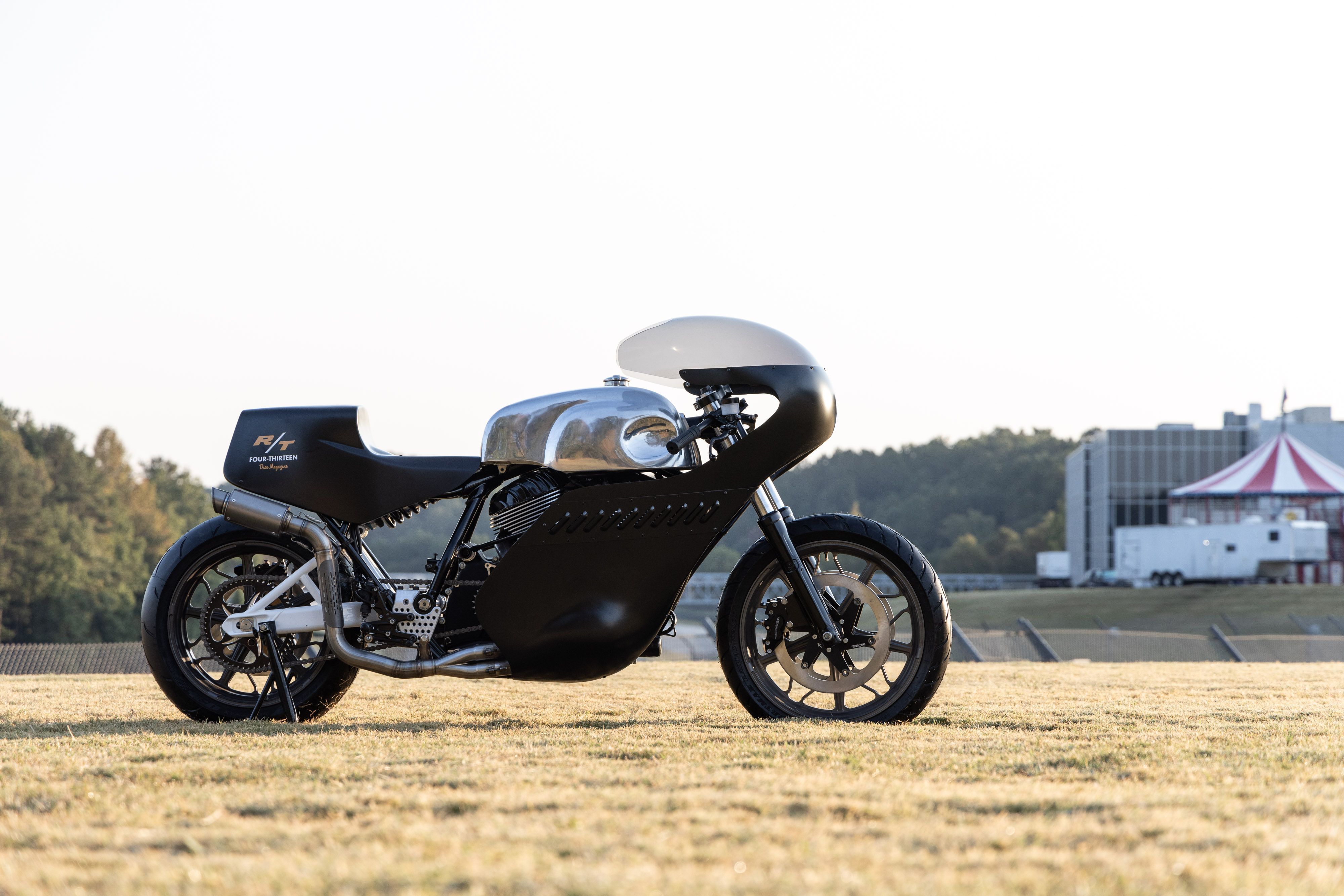 Custom Indian Chief says goodbye to cruising and hello to racing!
From time to time, Indian Motorcycles partners with custom motorcycle shops to create interesting builds. This time he handed the reins over to Noise Cycles and Zach Hindes, and boy, did both parties impress! Why do we say that? Well, because they turned an Indian Chief into a complete race bike, which not only looks worth a million dollars, but has several performance mods.
Custom Indian Chief "RT-4/13" by Noise Cycles and Zach Hindes
From the fairings to the tail section, everything is custom built by Zach Hindes
RELATED: Roland Sands' Stunning "Modern Vintage" Indian Chief
As always, the project began with the preparation of a digital design and once both parties were on the same page, so began the delicate process. Zach Hindes took over the fabrication of all the bodywork and it's safe to say he did a great job. From the old-school fairings to the boxy vintage tail section, everything looks extravagant and inspired by 1970 race bikes.
The fuel tank is also a custom unit and looks very different from the Indian Chief's teardrop unit. It does, however, look a bit more unfinished than the other parts, but we think that's an intentional thing to add character to the build.
Indian Chief now uses custom swingarm, monoshock and Roland Sands alloy wheels
Like the bodywork, the chassis and the engine also went under the knife. Starting with the former, the bike now uses a custom subframe and swingarm, allowing the twin shocks to be replaced with a more racy monoshock. Similarly, the Chief also dons custom 19/17-inch (F/R) wheels shod in sticky Dunlop rubber for improved cornering capabilities. Finally, a revamped brake setup from Beringer with dual discs up front helps bring down speed even faster.
RELATED: Indian FTR Limited Edition is a Homage to the Flat Track
Speaking of speed, let's talk about the engine. The Indian Chief's 111 cu in (1,818 cc) twin-cylinder engine remains largely unchanged, but now features stainless steel manifolds topped with a Racefit end case. This, in addition to a spare air filter and decreased weight, should increase performance significantly. Not to mention that the revised ergonomics (raised footpegs, new seat pan and clip-on handlebars) will help you tackle high speeds better than ever.
Custom Indian Chief "RT-4/13" – can you buy it?
A Racefit end box and stainless steel headers let you get plenty of juice while setting the racetrack on fire
This aspect remains vague for the moment. While the motorcycle was on display at the Barber Vintage Motorcycle Show, there is no update on whether it will bless Indian Motorcycles headquarters or go on sale. Either way, we can only stop dreaming about what it's going to feel like on a closed course while setting some serious pace. We hope you're listening, Santa!