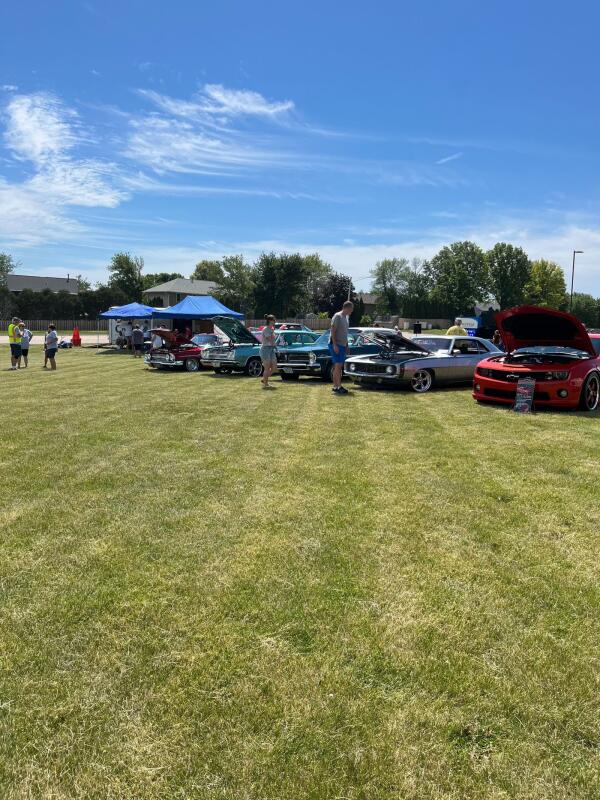 Car enthusiasts show off their rides at the Cedar Rapids Auto Show
Event at Noelridge Christian Church as part of Freedom Festival activities
Attendees look at vintage cars Saturday at the Show N Shine car show at Noelridge Christian Church, 7111 C Ave. NE to Cedar Rapids. The event was part of the activities of the Cedar Rapids Freedom Festival. (Hannah Pinski/The Gazette)
CEDAR RAPIDS — Vintage cars in shades of red, white, blue and beyond filled the parking lot of Noelridge Christian Church on a warm, sunny morning as part of Saturday's Freedom Festival festivities.
An eastern Iowa car club, the Classy Chassy Cruisers, hosted the Show N Shine Car Show in front of the church. Classic car owners could register for just $1 and show off their hot rods to onlookers.
Saturday's auto show also featured food trucks, live music and a fundraiser for the Iowa City Hospice. It's one of several events affiliated with the Cedar Rapids Freedom Festival, which culminates Monday with Iowa's biggest fireworks display.
4th of July Freedom Festival Events
Pancake Breakfast: 8 a.m. to noon, ImOn Ice Arena, 1100 Rockford Rd. SW, Cedar Rapids
Auto Show: 8 a.m. to noon, Kernels Stadium Lower Parking Lot, 950 Rockford Rd. SW, Cedar Rapids; auto show registration closes at 9 a.m.
Things that go boom! : 5:00 p.m. to 10:00 p.m., Cedar River Landing, 301 F Ave. NW, Cedar Rapids
Freedom Celebration Fireworks: 6-10 p.m., downtown Cedar Rapids; the fireworks start around 9:45 p.m.
Freedom Festival Concert: 7 p.m., McGrath Amphitheater, 475 First St. SW, Cedar Rapids; with Johnny Holm Band
Cedar Rapids City Band Concert: 7:30-8:30 p.m., Guthridge Park, 704 Emmons Street, Hiawatha
Keith Vanous of Robins brought his purple 1931 Ford Model A to show off at the event. Although he said he wasn't a big fan of attending auto shows, he saw an advertisement for the event and decided to give it a try.
Vanous said he bought the car on a Facebook post about four years ago.
"I was just looking for a hot rod," he said. "This one just popped up on Facebook one day, and the price is right."
He said he drives the car every day and loves receiving compliments and questions about the vehicle – a perfect fit for a car show.
"I bought (the car) to drive it, and I really enjoyed driving it and getting people's approval," he said.
Jeff Fossum of Cedar Rapids said he loves going to auto shows and telling people about his 1924 Model T.
"I love when I get the chance to explain (that) it's so different from a normal car," he said. "I have the opportunity to explain what all the differences are and how it works."
Fossum said his black Model T is one of 15 million cars built from 1908 to 1927. He got the car from his uncle after he died and he continued his uncle's work on the Model T for five years .
"He literally took parts that were sitting in the grass that were all covered in rust, put it all together, and it was flowing down the road," Fossum said. "I took and remade the whole body."
The Model T can go up to 35 mph, Fossum said, and he loves taking his grandson and driving around Cedar Rapids.
Fossum said he's been working on cars for more than 40 years, ever since he wanted to buy one as a teenager but couldn't afford it.
"I started learning all that, and I never stopped," he said.