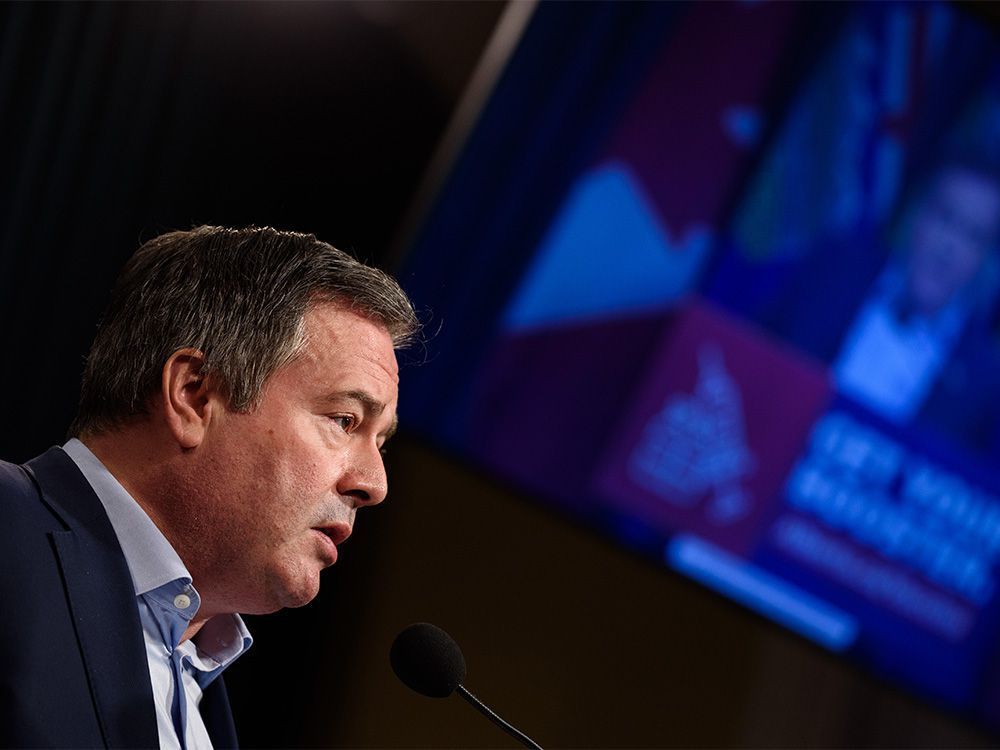 Braid: Former Tories argue for survival of Kenney's leadership
Above all, they fear what will happen if he loses the scrutiny vote – another leadership campaign
Content of the article
Premier Kenney received a nice letter of support from 19 former Conservative MPs on Wednesday.
Content of the article
Under these circumstances, the number is not impressive. When Kenney ran for the PC leadership in 2016, 50 former MPs pledged their support.
Many on today's list still have ties to the government. They sit on boards and commissions, are official lobbyists, or have a pet policy they want the government to follow.
They have good things to say about how Kenney kept most of his 2019 campaign promises. But they don't deny he has issues.
Above all, they fear what will happen if he loses the scrutiny vote – another leadership campaign
Alberta's Conservative parties have held six leadership races since 2006, including the post-Prentice struggle involving Wildrose and the dying PCs.
None of these contests produced the harmony and happiness of the party. In 2015, they even brought defeat, when the NDP defeated a Conservative party weakened by its own injuries.
Content of the article
Some of the signatories have experienced such leadership shake-ups for decades (Shirley McClellan, Pat Nelson, Iris Evans, Mary Anne Jablonski).
Gary Bikman and Bruce Rowe learned what happens when you cross the floor from one party to another (Wildrose at PC in 2014). It is not pleasant.
This is not a list of wild-eyed Kenney cheerleaders, with the possible exception of Edmonton's David Dorward.
Rather, the letter is a call from battle-weary veterans to avoid another civil war. It can be summed up as "hold your nose and vote yes for Jason".
The letter was sent to UPC members, the real target audience. Only Kenney's Survival Campaign can do that, as the party leader is the only individual who has the full list of members.
Content of the article
Constituency associations have requested lists of members in their areas, so far without success. Kenney's unique access gives him a big advantage.
Kenney's other advantage is that he faces no challengers for leadership.
Opposition to the party is strong but there is no centralized and targeted campaign against it or for an alternative candidate. The letter is a good example of Kenney's long reach that dissidents simply cannot match.
The letter lists all sorts of issues if Kenney loses and there is a new leadership contest.
The first is a fall vote on a new leader that would clash with the federal Conservatives' own leadership decision, attracting volunteers and contributions.
Then there's this admission, which I suspect won't sit well with the confused taxpayer.
Content of the article
"During the race, the decision-making of the government stopped. The bureaucracy would go into interim mode and all progress on programs and initiatives would cease.
Not necessarily. Either Kenney would stay until the next leader was chosen (as Ed Stelmach did) or he would step down and be replaced by a prime minister elected by the UCP caucus (as when Alison Redford resigned and Dave Hancock became Prime Minister).
Even without a hand at the helm, the government continues. Sometimes bureaucrats do even more because they don't have to help ministers find facilities.
According to the letter, further problems would arise when a new leader hastily forms the cabinet and government in the run-up to elections on May 29.
Content of the article
"We will have wasted 10 months of economic progress and election planning while the NDP nominates its candidates, builds its platform and connects with voters, while credibly telling Albertans that once again the Conservatives are too busy fighting to fight for them."
The letter does not fully address a very real possibility – that the UCP may not be able to win again with Kenney as their leader.
This is a widespread opinion in the party, the biggest impetus behind the desire to overthrow the Prime Minister.
In this context, the writers of the letters may remember Doug Ford, Conservative Premier of Ontario.
Ford took over as leader of his party on March 10, 2018. On June 7, less than three months later, he won a majority.
Don Braid's column appears regularly in the Herald.
Twitter: @DonBraid
Facebook: Don Braid's Politics
---
More news, fewer ads, faster loading times: Get unlimited, lightweight access to the Calgary Herald, Calgary Sun, National Post and 13 other Canadian news sites for just $14/month or $140/year. Subscribe now via Calgary Herald Where Calgary Sun.