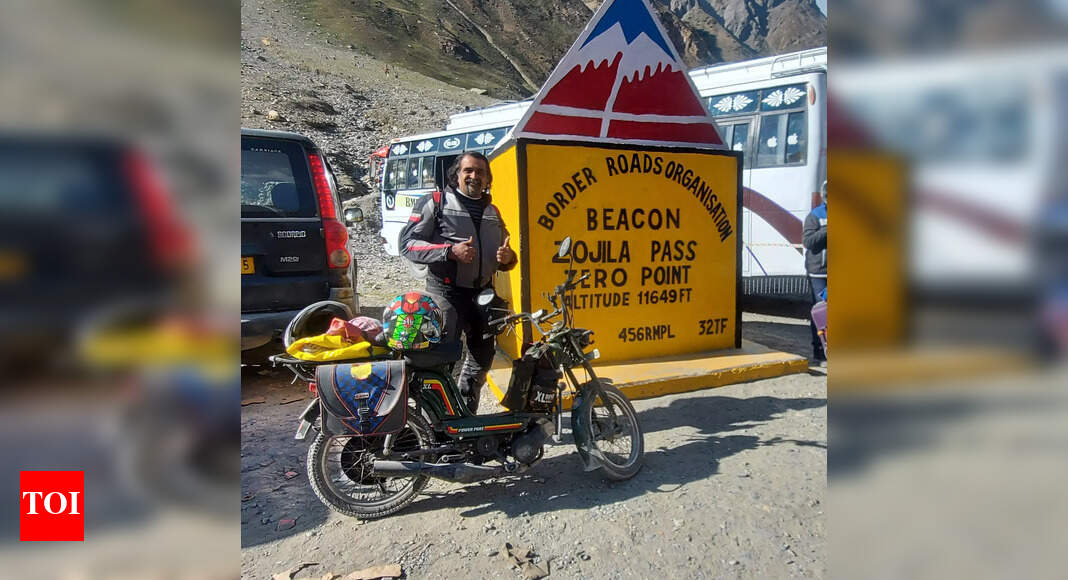 Biker carries message about COVID vaccines from Kanyakumari to Leh-Ladakh
Girish P Venkatraman, an avid biker and bicycle collector from Mangaluru, traveled from Kanyakumari to Khardung La on a TVS XL50, educating locals about the need to get vaccinated against COVID-19. Most of his previous trips were about road safety.
"Everywhere I stopped, people came to talk to me. I gave them brochures and stickers and told them to get the vaccine. A lot of people are still not aware of the importance of vaccination, "explains the rider, who can communicate in Kannada, Malayalam, Marathi, Tamil, Punjabi and Telugu and Hindi.
Girish has been to Leh several times and each time on a different bicycle. He remembers the first time he crossed Ladakh in 2014. "My friend and I flew to Jammu and rented a bike in Ladakh. For the next two trips that followed in 2017, 2018 and 2019, my friend and I transported our bikes to Ladakh, "he says.

The power of the small

This time, Girish began his journey in Kanyakumari on September 23 and ended in Khardung La on October 10. The trip is special to him for at least two reasons. First, it was his first solo ride, and the second was on a "little bike," as he calls it, the TVS XL50.
"It was difficult to ride a bike with less power. I had to be slow and steady at all times to prevent the bike from breaking. But I wanted to prove to everyone that you can enjoy a trip on any bike, big or small. The main thing is to be mentally prepared, "he says.
Bitten by the bicycle virus

Girish is the proud owner of over 100 two-wheelers and has a small museum at his home in Mangaluru. Ironically, the collection started with a vintage car, the love for which he developed while on vacation in Jaipur. "I saw a vintage car rally and wanted to buy a vintage car. Later I wanted a British bike and soon the collection grew extensive and my

circle of friends also began to form. My hobby has become a passion, which has become an obsession now, "he laughs.

He now has a collection of 106 two-wheelers and is a member of the Bengaluru and Mangaluru motorcycle clubs. Its collection also includes four vintage cars – 1932 Austin, 1940 Standard 8, 1957 Fiat Elegant and 1968 Willys jeep. The two-wheeler collection includes the Jawa Yezdi Monarch, 1942 BSA, 1957 Lambretta LD, Vijay Super and Rajdoot Rajhans to name a few.
"The oldest bike I have is the 1939 DKW from Germany. Another rare scooter that I have is called Fantabulous which was made by Enfield India. It has gears on the ground and the body of a scooter on a bicycle, "he exclaims.
The old man is handsome

Girish's goal is to preserve the glorious history of the automotive industry for future generations. "Bikes today can be started instantly with keys. But older bikes did require one to rack up the kicks and then start. I want to show young people how beautiful and simple the old bikes were, "he says.
– Deepa Natarajan Lobo