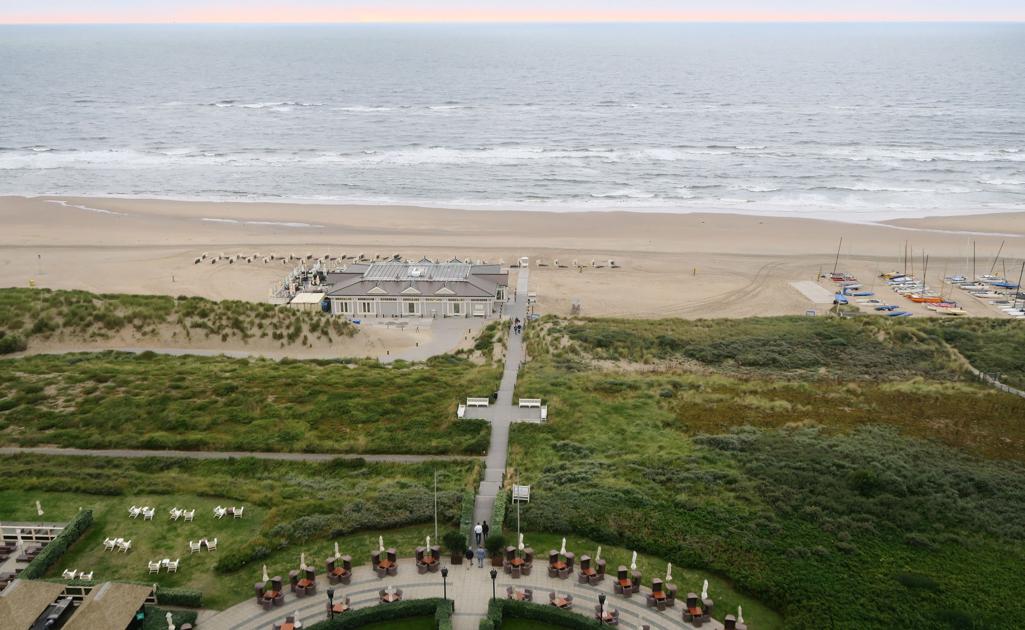 A quick train ride from Amsterdam, but a world far from its crowds | Culture & Leisure
De Tagrij is a tavern in a century-old building that previously housed a brothel, a shop selling sails to sailors and a Salvation Army shelter. The stained glass patterns on the front windows tell its story. Today people gather here for plates of craft beer and cheese. De Tagrijn is in Zwolle, a medieval town in the Netherlands with a historic 15th-century gate, a huge park with cycle paths, a Michelin-starred restaurant and Waanders in the Brothers, a bookstore in a renovated Gothic church. You can see works by van Gogh, Mondrian and many more at the Fundatie Museum.
Zwolle is a short train ride west of Amsterdam. This is just one of the many cities to visit if you are looking to avoid the busy streets of the capital. Amsterdam receives a lot of love in the media: bikes, museums (Rembrandt! Van Gogh!), The pot. But there are an assortment of other towns, none of which are more than 90 minutes away by train, that offer their own reasons to visit.
Amsterdam has made efforts to reduce the effects of overtourism since before the pandemic. In 2019 alone, the city welcomed over 9 million tourists, which is pretty extreme considering the population is less than 1 million. The diversity of things to do and see outside of Amsterdam is particularly relevant now that tourism in the capital is picking up steam.
Here are a trio of towns that are only a short train ride away.
"Here, enjoy a sip of history," said the bartender, placing a glass of Hoppenbier on the bar. It was malty and crunchy with a slightly hoppy finish and, according to a document found in the Haarlem city archives, this is what locals drank in the early 16th century. It was the inaugural beer that Jopen made when she started brewing in 1994 on the outskirts of this very old town. In 2010, the brewery opened Jopenkerk, a dazzling restaurant and bar inside an old church, where light from stained glass bounces off large shiny copper brewing kettles.
It's in a bustling town square, and if you're there one night at 9am you'll hear the bells of Saint Bavokerk, a nearby medieval Gothic church. They have been ringing the bell since the 16th century, when they informed residents that the city gate was closing. It is such a source of local pride that some residents have the chime as their bell, said my tour guide, Antoinette Haan. (In an unprecedented move, the time for the bell ringing changed for a while during the pandemic to herald a coronavirus-enforced curfew.) Revolve around tea and thoughtful dinners with beer pairings, which made me wonder if I would need wine with a meal again.
Others in Holland and beyond also drank Hoppenbier in the 1500s. There was plenty to sell. The water from the Bakenessergracht, the canal that runs through the city and ends at the Spaarne river, was not drinkable. But it could be used for brewing. Noting that access to the river made Haarlem a trading hub, Antoinette pointed to the canal-side weigh house where merchants were taxed on their cargo. (Haarlem, less than 20 minutes by train from Amsterdam, is a city steeped in history. If your time is limited, I recommend a guide who can show you the highlights and reveal its nooks and crannies and details.) contributed to the wealth of the city, and few were more prolific in documenting the life of the bourgeoisie than the painter Frans Hals, native son of Haarlem and star of the Golden Age.
Hals is known for his portraits of civic guards – all in black suits and ruffled collars. (Van Gogh is said to have written that Hals must have used "27 shades of black.") Many worked in the moonlight as brewers. The works are on display at the Frans Hals Museum, which is said to have been visited by Édouard Manet, Gustave Courbet and Claude Monet, each of which, according to legend, is noted in the museum's guest book.
As spectacular as the paintings were, as I walked through the courtyard, frozen in time in the 1700s when the building served as a home for elderly men, it was difficult to return. Who would ever want to leave such tranquility? Courses like this are one of the hallmarks of Haarlem. Later that day, Antoinette led me to a few blocks from the museum, explaining that the chalets lining the perimeter were designed as spaces where older women could live rent-free. It was easy to imagine Hals set up with his easel here, eternalizing the lively faces of the residents.
Breakers Beach House is a seafood restaurant on the shore of Noordwijk. It is part of the Grand Hotel Huis ter Duin, a family hotel that has hosted such luminaries as Barack Obama. He stayed in Noordwijk (30 minutes by train from Amsterdam to Leiden, then another 15 minutes by bus) when he attended the 2014 Nuclear Security Summit in The Hague. A wall at the back of the restaurant is decorated with historic photos in sepia tones; it could be a city museum. There are cheerful women in bonnets and ruffled dresses looking out to sea. And there are covered wooden carts on the beach, ersatz changing rooms for 19th-century recreation enthusiasts. The images depict Noordwijk's past as a spa town. Today, after a few decades as a convention site, it is reviving its reputation as a resort destination. Efforts pay off. In 2020, it was recognized by the European Spas Association as an official spa town.
But there's a lot more to the outdoors here than eight miles of coastline. It was in Noordwijk that I discovered that the old saying goes that you never forget how to ride a bike is true. This is at least the case when we relearn on flat and paved paths that wind through a mosaic of landscapes: dunes, forests, fields. I contacted Mark Kras, a forester with the Dutch Forestry Commission, for a city tour. Encyclopedic to his knowledge, he provided a running narrative throughout our four hour drive. (The continued reassurance he offered to this nervous, born-again cyclist shouldn't be ignored.) First, along the 19th-century tulip fields, which will bloom again in April. Then climb to the thousand-year-old dunes. Mark stopped dead, hopped off his bike and pulled out his binoculars.
"As soon as you enter the dunes you are bound to see one," he said, handing me the binoculars and pointing to a fallow deer, its antlers towering above tall grass and stems. of grains like skyscrapers in the desert. All the while, parents riding bikes with babies or toddlers in baskets in the front or baskets in the back or towed carts were passing us.
Just as your servant, a shameless city dweller, began to succumb to nature's spell, civilization appeared like a speed bump. In front of it stood a radio tower, which was part of a Dutch Naval Aviation Service base that had been taken over by German troops during World War II. We sailed south along a forest, a dense cluster of pine trees planted around the 1930s to protect coastal villages from encroaching sand. But it was the invading Germans who left their marks ahead. The Atlantikwall Museum, whose entrance is tucked into the side of a high dune, provides access to a network of underground bunkers. Mark waved me across the bike path, pushed back some vegetation, and pointed out a cement slab marked with a curved print. "This is how we know a German was standing here," he said, tracing the outline of a boot print.
Quite quickly, I said goodbye to Mark and made my way to the Vesper Hotel, a beautiful and decidedly modern hotel inspired by some of the most famous design hotels in the world. Cosmopolitan but playful, it offers vintage furniture and decoration. Each light-flooded room has a record player and vinyl, but the lullaby comes from the waves across the street.
The Phood Kitchen occupies a formidable former dairy factory. From the dining room, guests can watch leafy greens grow downstairs on two tables designed for aquaponics, a system of growing plants in groundwater where fish waste is converted into nutrients. After lunch, a coconut rice and chicken dish made with locally grown kale, I found Tim Elfring, who owns Phood Kitchen and the adjacent Phood farm with Sabine Feron. Partners in life and business, they met while studying tai chi in England. He took me to the elaborate inner farm. (Tours will be available for groups in the near future.) He estimated that they were growing 200 pounds of greens per week. Imminent expansion – horizontal and vertical – will quadruple the capacity for growth.
The restaurant had an outdoor tent stage and sandy dining pavilion all summer long, but beyond the perimeter is a vast industrial area, the kind that defined Eindhoven, an 80-minute train ride from Amsterdam, for decades. But that is changing. Tim is helping develop the region into an incubator for food start-ups. It's similar to how Strijp-S, about six kilometers across the city, has become a trendy neighborhood with shops, breweries, restaurants, design studios and Enversed, the biggest experience in European virtual reality, the platonic ideal of an amusement park. (All the thrill, no one is sitting next to you.)
This is also where I wandered into Mu Hybrid Art House, which calls itself an "investigative presentation platform". The exhibits here highlight the intersection of design and technology. Artificial intelligence has featured prominently in the mostly digital work of "Real Feelings," the show I saw this summer. It had to be the best possible place to envision the technology of the future, it is now. After all, locals may have felt a similar mixture of wonder and anxiety when around the turn of the 20th century, factories in the same location made futuristic light bulbs.
Now a destination, Strijp-S was known as the "Forbidden City" because for decades it was occupied by the Philips manufacturing headquarters and only employees were allowed there. The lighting and electronics company was founded in Eindhoven in 1891 and is synonymous with the city. (See: Philips Stadium, Muziekgebouw Frits Philips Concert Hall, Frits Philips Lyceum School.) But the city is also home to the famous Design Academy Eindhoven, and the cavernous industrial spaces are a designer's Shangri-La.
Piet Hein Eek, who graduated from the Design Academy in 1990, was among the first to appropriate a brickyard building. The Dutch design star, who became known for his scrap wood cabinets, now heads a veritable empire headquartered in Strijp-R, about three miles from the city. Its studio / workshop / showroom doubles as a design museum, with a restaurant and hotel soon to open just across the street. The high ceilings and window walls provide an austere backdrop against which the furniture details – mismatched chairs, Eek's patchwork anti-pattern tables, a fascinating bar constructed of layered colored gas pipes – appear in High Definition.
It struck me again and again how much the free-spirited and environmentally conscious creative class does not disdain the city's corporate past. In fact, many cherish him. Tim and Sabine, for their part, have tricked their urban farm with Philips bulbs specially designed for indoor growing. Here, the innovation of the past directly shapes the future.