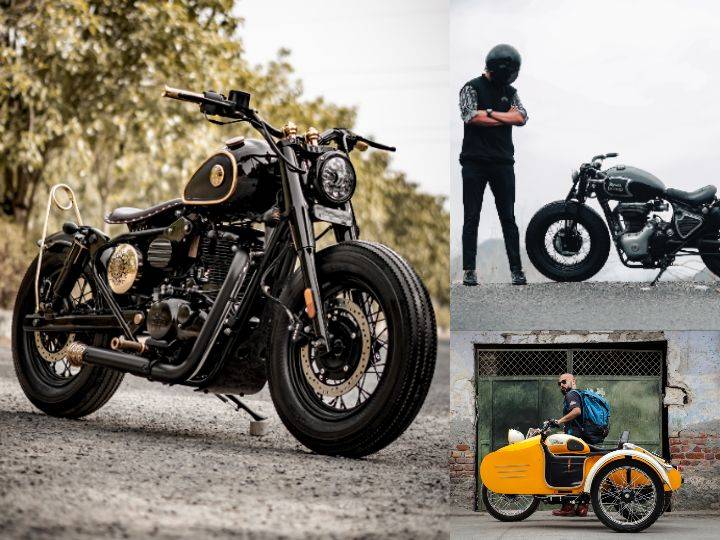 4 unique custom built Royal Enfield Classic 350 Indians

The Royal Enfield Custom World initiative has been a theater of art for builders around the world and we've seen everything from custom scramblers to track warheads. This new Classic REimagined project features great hangar builders like Rajputana Custom Motorcycles, Old Delhi Motorcycles Co., Neev Motorcycles and MS Customs. Built simultaneously and presented at four sites – Delhi, Mumbai, Pune and Bengaluru, each of these Classic 350s has a unique story to tell. Let's see what these are:

In true Rajputana customs fashion, 'Gaur' is a custom motorcycle that has layers of inspiration baked into its DNA. From the hand-built parts to the old-school beam suspension, this bike is a look. The company gave the bike a new chassis, fuel tank, footpegs, premium leather work and even a gear stack for that extra hit of performance.

Neev Motorcycles chose to build a bobber and while this must-have design of its "Divine" isn't unique on its own, the details help it stand out. The bike squats lower thanks to a custom swingarm, and the matte black custom tank pops thanks to gold striping and gold foil. The bike is fitted with chunky 5 x 16 inch balloon tires and is decorated with machined and etched brass parts to amp up the bobber look.

"Dilli" by Old Delhi Motorcycles is a tribute to the bustling capital. He tries to capture the mix of old and new on a single canvas. Bearing in mind the modern beating heart of Delhi and the history on which it was built, 'Dilli' with its retro appearance, beam suspension and sidecar is definitely a head turner.

Doesn't this urban roadster from MS Customs look like a vintage Scram 411? This Classic 350 gets a 60s-themed headlight, custom fuel tank and swingarm. The wire-spoke wheels and balloon tires surely complete the look, but the custom leather seat with its pronounced lift in the rear really completes that '60s look.
Custom motorcycle culture isn't just about light modifications and quirky paint schemes, it's an art to express yourself by shaping the metal. These four Classic 350s capture local stories, each inspired by a different corner of India.
Royal Enfield Classic 350 video review