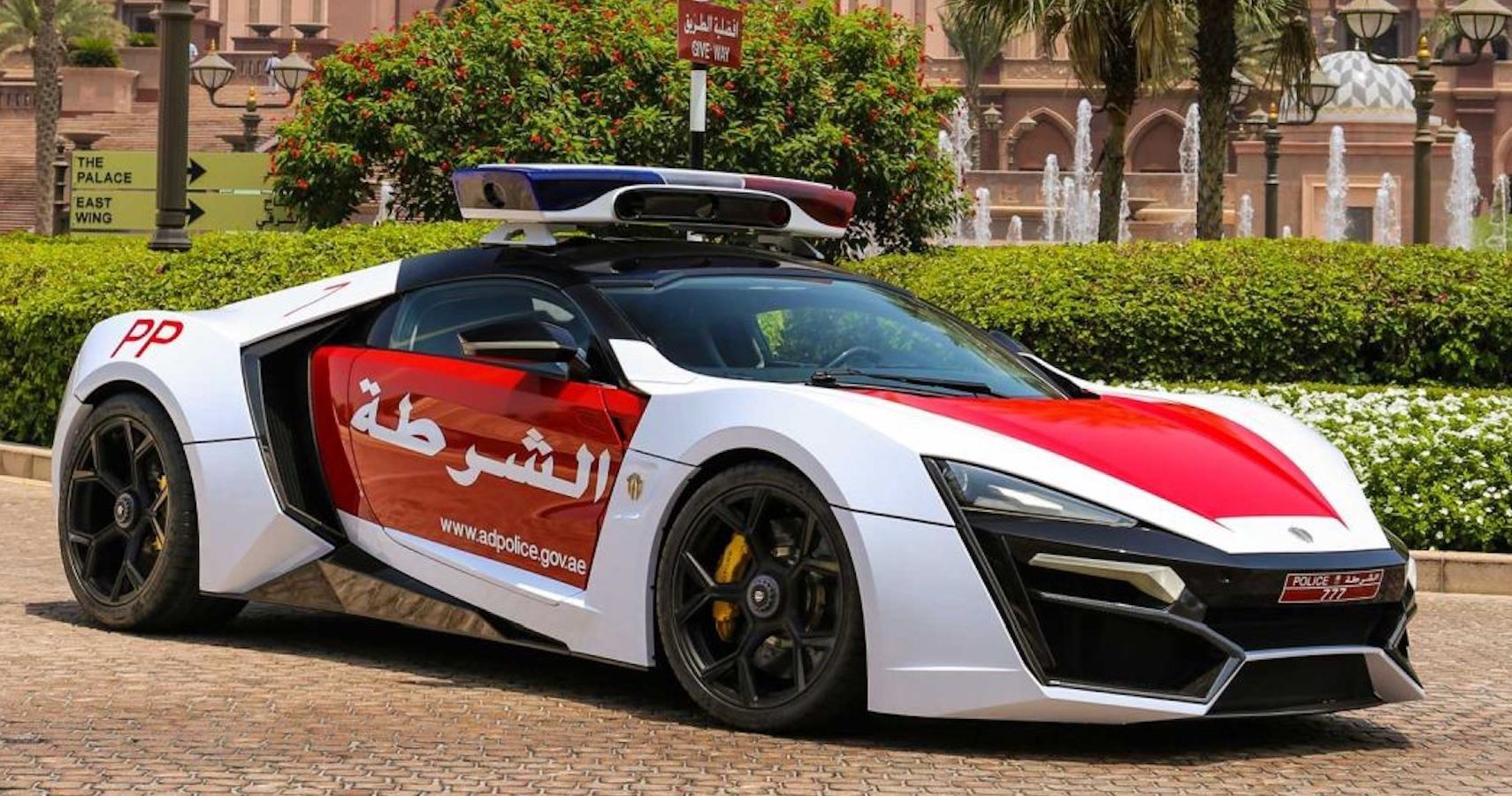 10 interesting police vehicles we'd love to spin
It's safe to say that public opinion on the policing world isn't filled with love. Not to overlook their role in keeping society safe, but there are bad apples in the service who abuse the law and ruin everyone's reputation. Whatever your opinion of the forces, you can't deny that some police departments have some incredibly cool vehicles in their fleets.
In some wealthy neighborhoods like Dubai, the police have no choice but to own cars that can keep up with the rogue supercars looking to dominate the streets. After all, they must maintain order and protect all road users. Some, like the Dubai Police, enjoy celebrity status thanks to their coveted supercars turned police cruisers. Any traffic offender would freak out or break into a cold sweat seeing a Lamborghini police car in their rearview mirror. But it's not just about flashy supercars and speed. There have been plenty of interesting police vehicles from the past and modern times that any car enthusiast would love to take a spin.
10/10

Ford F-150 Lightning Pro SSV (US)
The iconic F-150 nameplate gets ready for the future with the all-electric Lightning model. Like its predecessors, the F-150 Lightning has seen high demand and Ford has already sold out its 2022 batch. Now, Ford has also ensured that the boys in blue will take advantage of the new product with a smart electric truck specially designed for police .
The 2023 Ford F-150 Lightning Pro Special Duty Vehicle is unlike anything Ford has built for the 12,000 police departments it serves with vehicles. Criminals should be on the lookout for this new bad boy, and enthusiasts wouldn't hesitate to get behind the wheel.
RELATED: 10 Things We Just Learned About the 2023 F-150 Lightning Pro SSV, America's First Electric Police-Grade Truck
9/10

Lykan Hypersport (Abu Dhabi)
We have the Fast and Furious franchise to thank for putting JDM vehicles on the automotive map. They also displayed the little-known Lykan HyperSport supercar in the Furious 7. Off the big screen, you'll catch it on the streets of Abu Dhabi in the hands of the police.
Abu Dhabi bought the limited-production Lebanese car in 2015 for a whopping $3.4 million. It has a Porsche engine developing 750 bhp and motivating it to sprints from zero to 60 mph in 2.8 seconds and a top speed of 245 mph.
8/10

Ford Mustang Mach-E Police (USA)
Ford is testing its new all-electric Mustang Mach-E police car in various cities across the United States after passing the Michigan State Police test. It looks pretty badass for a police vehicle and clearly signals the future of police fleets.
Police departments travel their patrol vehicles extensively, and investing in electric vehicles makes a lot of sense. The Mach-E is an excellent specimen thanks to its good range, quick accelerations and spacious interior.
7/10

Gendarmerie Alpine A110 (France)
In October last year, we learned that the mid-engined Alpine A110 police car would be the new face of French law enforcement. It was not the first exit of the Alpine with the French highway police. The Gendarmerie has a long history with the Alpine A110, dating back over five decades.
New bespoke creations join the squadron, evoking the spirit of the early A110s from 1967. These were fast enough and could keep up with criminals who wanted a quick getaway, and we'd like to take one of the classics for a spin .
RELATED: This Lamborghini Owner Argues With A Cop Over His Speed
6/10

Ferrari 458 (Italy / Czech)

The Ferrari 458 Italia ticks all the supercar boxes thanks to its jaw-dropping looks, aerodynamic bodywork and serious power emanating from its mid-section engine. Ferrari built the 458 between 2010 and 2015, and it cost an arm and a leg when new, leaving it only accessible to the wealthy. Thanks to a few extravagant criminals, the Italian and Czech police can patrol these collectibles.

After a Milan mob boss is found guilty of terrorizing locals, police turn their 458 Spider into a police car to remind other criminals that crime doesn't pay. Czech police took inspiration from Italian police books by turning a Ferrari F 142-458 Italia seized from a criminal in 2011 into a patrol car.
5/10

BMW 428i from AC Schnitzer (Germany)
AC Schnitzer is an expert German tuning team specializing in BMW and MINI cars and BMW motorcycles. They turned some already potent BMWs with custom parts into killer supercar sleepers. Also, they run a campaign to promote safe vehicle tuning where they produce some rad police cars that we wouldn't hesitate to give a ride.
In 2013 they launched the BMW 428i police car at the Essen Motor Show in partnership with the police and the Federal Ministry of Transport. It's based on the BMW 428i coupe and gets performance and visual updates with a police livery in your face. AC Schnitzer's latest creation for the boys in blue is a BMW M850i ​​​​police car with an output of almost 100 hp.
4/10

BMW Isetta (Germany)
Before the arrival of the Smart Fortwo microcar, the Germans built the BMW Isetta, a coveted vintage car that is remembered as a saviour, an icon and an everyday hero. It's not among the most powerful or fastest entries on this list, but it's one of the most interesting. And the police were able to drive her, patrolling the streets of the city.
While some German police rode in V8-powered BMW sedans, others had to make do with these tiny panda cars powered by a 298cc twin-cylinder engine. We think they had as much fun at work as their counterparts.
RELATED: It's The World's Cutest Police Car
3/10

BMW 501 (Germany)
BMW built the 501 between 1952 and 1958. In the 1950s and 1960s, the Munich police operated a fleet of these large and powerful luxury sedans known as Baroque Angels. But only the best-trained traffic cops had the privilege of driving them.
The BMW 501 has significant historical value as it was the first BMW model built in Bavaria and produced and sold after World War II. BMW did all the work for the Polizei version in-house, with a 2.6-liter V8, later upgraded to a 3.2-liter V8.
2/10

Volvo V90 (Sweden)
It makes sense that the Swedish police deploy Swedish cars in their fleets. The Volvo V90 has recently joined the ranks of a long list of Volvo police cars in service with the Swedish police since 1929. The V90 has undergone rigorous testing, earning a score of 9.2 out of 10, the highest rating of all vehicles tested, making it the perfect police. auto.
The V90 wagon offers exemplary performance thanks to its chassis, steering, suspension, powertrain and driver assistance systems. The police version is equipped to accommodate police equipment and police livery to differentiate it from the customer version.
RELATED: A look at some Dubai police cars and why they're ridiculously expensive
1/10

Porsche 918 Spyder (Dubai)
It must be fun working for the Dubai Police Patrol as we are at a loss for words to describe the amazing supercars at their disposal. At this point, they are more of a tourist attraction and help promote the feeling of luxury associated with the wealthy city of the United Arab Emirates. Among the Ferraris, Lamborghinis, Aston Martins and Bugattis in the lineup you'll find the Porsche 918 Spyder, arguably one of the most interesting cars they own.
The flagship Porsche is beautifully decked out in the white and green livery, and it can keep up with any car in a high-speed chase. Safely, we wouldn't mind taking a ride through the streets of Dubai with the sirens on.